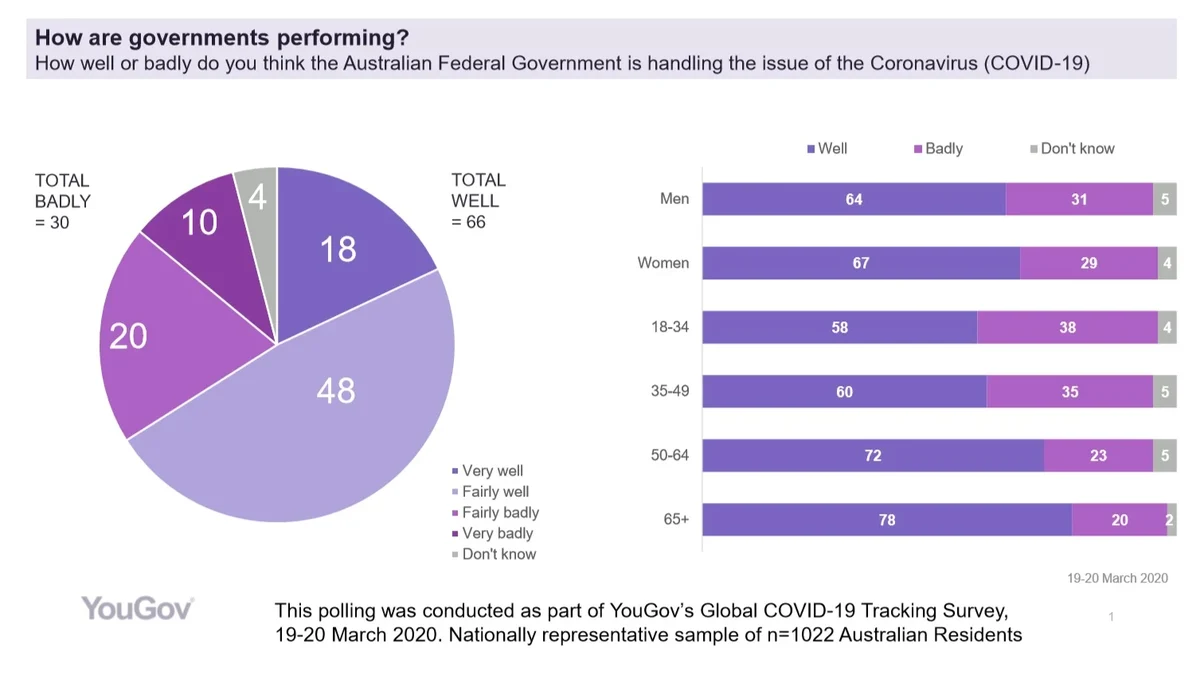 Australians are marking-up the Morrison government for its handling of the COVID-19 pandemic according to YouGov polling that indicates about two-thirds of residents believe the response has been effective.
The polling of 1022 people was conducted on Thursday and Friday, before the government's stimulus package was announced in full and ahead of the confusion at the start of this week about whether schools would be shut down.
The results of the survey suggest that 48 per cent of Australians believe the government has reacted "fairly well" to the outbreak while a further 18 per cent believe the government responded "very well."
According to the results, the age group most impressed with Scott Morrison's response is those aged over 65 years-old — the cohort most susceptible to the coronavirus.
Of those in this category, 78 per cent said the government had handled the pandemic "well" compared to just 20 per cent who thought it had reacted "badly." Only two per cent declined to express a view.
For those aged between 50-64 years-old, 72 per cent agreed the government responded "well" compared to 23 per cent of those of the contrary view, while 5 per cent were uncertain.
The age group most displeased is the 18-34 years category, with 38 per cent saying they believed the government had responded "badly." However, within this age grouping, a majority of 58 per cent still expressed a positive view about the government's response.
Head of Public Affairs and Polling for Asia Pacific at YouGov, Campbell White, also noted that polling had been done in 10 other nations including Italy, Great Britain, France, Germany, Spain, Norway, Sweden, Finland, Denmark and India.
The results indicate that Australia ranked fourth in terms of how positively people viewed the government response.
Indians were most happy, with 87 per cent giving the tick of approval to their government, followed by Denmark with 86 per cent expressing satisfaction at the handling of the pandemic.
Italy also returned a more positive result than Australia despite the virus taking a severe hold in the nation, with the survey showing that 78 per cent of Italians believed their government had responded "well".
Sweden had the most negative result, with only 41 per cent of respondents saying they believed the government had handled the crisis well.
"Sweden is the only country in the Nordics which hasn't closed the schools. And you can see the government reaction is quite a bit worse than some of the other countries. It's become an issue in Sweden," Mr White told The Australian. "That's the caveat I think — that's a thing to watch."
Mr White said the Australian results were "very good for the government."
"Certainly they're being given the benefit of the doubt at the moment. It will be interesting to see how it tracks going forward.
"Obviously a lot of water has to flow under the bridge before this is resolved politically."
___________________________________________
The above article is published on The Australian on March 25, 2020. For details, please visit The Australian's webpage: https://www.theaustralian.com.au/nation/politics/yougov-virus-response-poll-very-good-for-government/news-story/ba153270441de4f1114c958ecf682c0e