Yes vote for same sex marriage has overwhelming support, Two-party preferred YouGov-Fifty Acres poll shows
Labor pulls ahead on primary vote but Turnbull is preferred Prime Minister
The yes vote for same sex marriage in Australia has overwhelming support with a 26% lead over the no vote, according to the two-party preferred YouGov-Fifty Acres poll. This was the first survey to ask respondents how they would vote on same sex marriage using the same question wording as the postal vote: "Should the law be changed to allow same-sex couples to marry?"
The poll showed the yes vote leading at 59% against the no vote at 33%, while 9% answered "don't know".
The only age group that says they will vote no to same-sex marriage was those 55+. Among this group, 44% would vote yes and 46% would vote no.
Those in the 18-24 age bracket overwhelmingly support same-sex marriage, with 82% answering yes, and only 9% answering no.
The poll also found just around half of Australians have used a letter box and/or Australia Post to send mail in the past week.
There is a clear age divide - just 24% of 18-24's have used the post in the past week compared to over half (51%) of those aged 55+. More than one in 10 (11%) 18-24 year olds haven't sent anything in the past in the past year.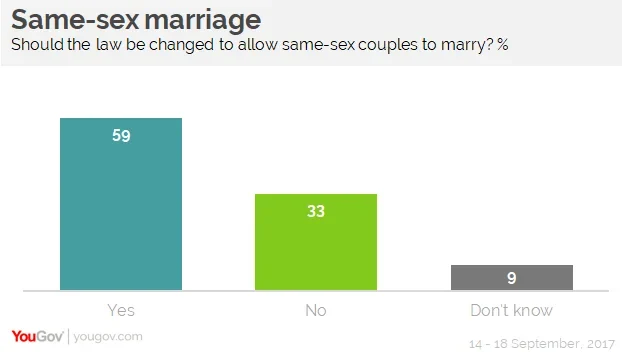 The poll also found the majority of Australians believe the country should move away from coal-fired power, while the country is split on the likelihood of a nuclear attack.
Less than a quarter (24%) of survey respondents think Australia should continue to use coal-fired power.
Meanwhile, 43% think that it is very or fairly likely that a country will be hit by a nuclear weapon in their lifetime, while 44% think it is very or fairly unlikely. There is a noticeable gender divide, with women far more pessimistic than men regarding a nuclear strike - half (50%) of female respondents think a nuclear attack is likely, compared to only 36% of men.

The poll also shows Labor has pulled ahead of the Coalition on the primary vote for the first time in 12 weeks.
The two-party preference remained constant at 50-50.
When removing those who would abstain, Labor are at 35% (up three), above the Coalition on 34%. One Nation remain on 9%, and the Greens are down one to 11%. The other parties are collectively on 10% (down three).
Australians believe Malcolm Turnbull (37% - up three) would make a better Prime Minister than Bill Shorten (29% - up two).
However, they think Bill Shorten is more "in touch with the concerns of ordinary Australians" than Malcolm Turnbull (30% for Shorten compared to 17% for Turnbull), while Turnbull is considered more of a "strong leader" than Shorten (28% to 20%).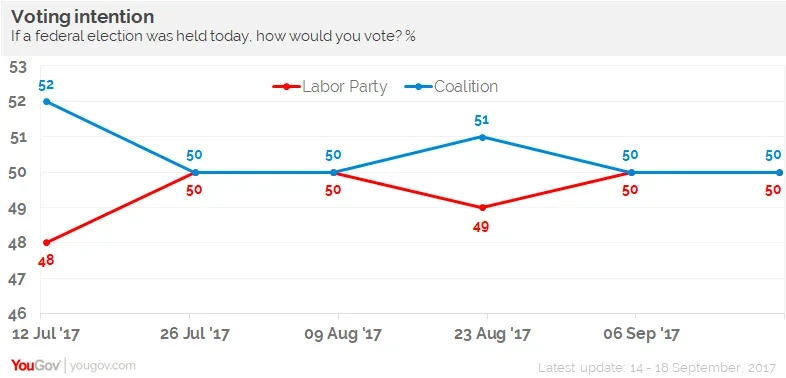 Shareable URL
https://d25d2506sfb94s.cloudfront.net/cumulus_uploads/document/8xlijxxbji/50AcresResults_170918_Wave11_W.pdf

Methodology Overview
All figures, unless otherwise stated, are from YouGov. Total sample size was 1056 adults aged 18+ years. Fieldwork was undertaken between 14th – 18th September 2017. The figures have been weighted and are representative of all Australian adults (aged 18+). The survey was carried out online.
This is the latest poll from YouGov, which has a proven record of accuracy in both US and UK politics. In the most recent UK election they were the first polling agency to correctly call the result, showing the country was heading for a hung parliament despite most other organisations showing a large lead for the Conservatives. All polling is subject to a margin of error so it is natural to see some variations from poll to poll.