Toyota has been recognised as the best-ranked brand in the YouGov Auto Rankings 2023 in Australia, topping for the fifth year running with a score of 42.4 points. The brand also topped the Global Rankings, indicating that it not only enjoys the highest overall brand health among Australian residents but people all around the world.
YouGov BrandIndex measures the public's perception of thousands of brands across the world on a daily basis. The brand rankings were compiled using Index scores, a measure of overall brand health calculated by taking the average perception of Impression, Quality, Value, Satisfaction, Recommend, and Reputation over a period of 12 months.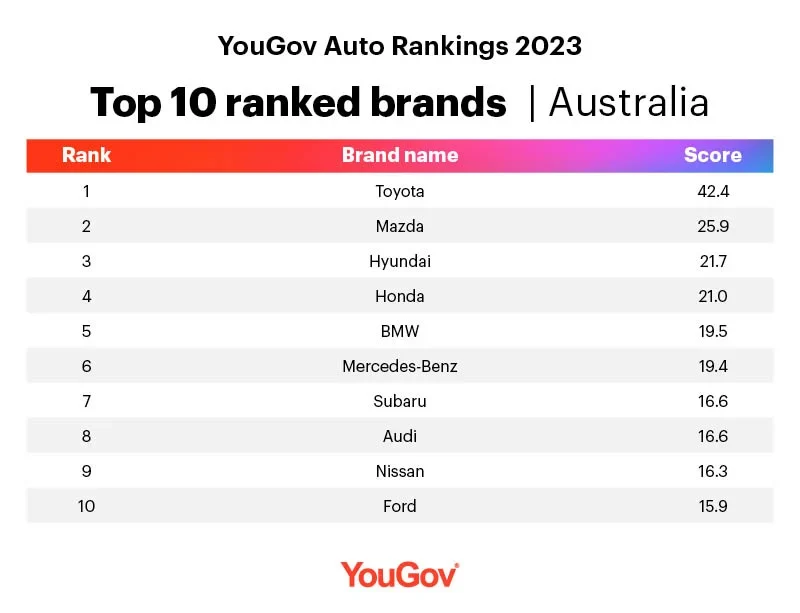 Mazda remains in second this year as well (25.9 points) but Hyundai has moved up three places- to third (21.7) in this year's rankings.
Japanese manufacturer Honda and German luxury car maker Mercedes- Benz moved down one and two places each, to fourth (21.0) and sixth (19.4), respectively. BMW remained in fifth (19.5) this year as well, but there has been a slight decline in its year-on-year brand health score.
Along with Toyota, Mazda, and Honda, two other Japanese brands feature in the list- Subaru in seventh (16.6) and Nissan in ninth (16.3)
Ford made a new entry in the list and rounded off the top ten, with a score of 15.9.
YouGov BrandIndex has also released the "most improved" brands of the past year. This was topped by Kia, with an improved score of +2.9 points.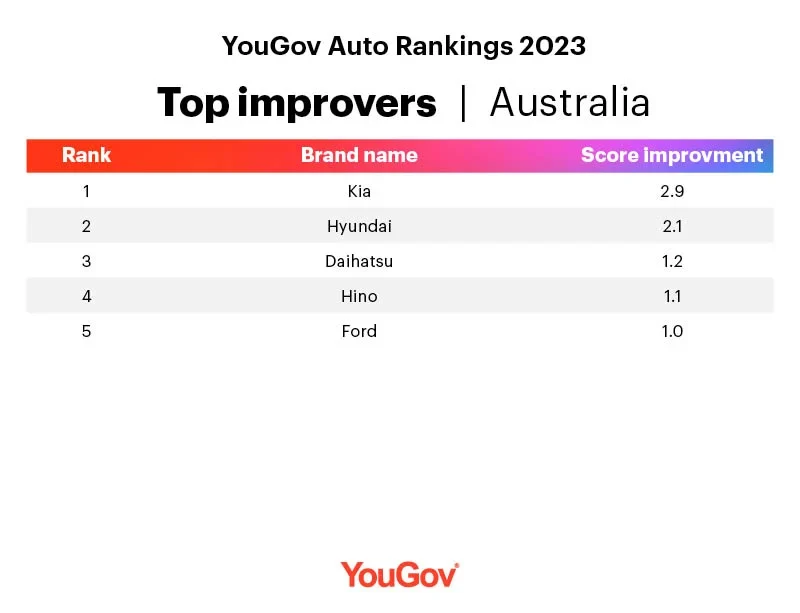 Hyundai, which also featured in the top ten rankings, was the next most improved brand, with a change in score of +2.1 points. Japanese brands Daihatsu and Hino were next, which saw boosts of +1.2 and +1.1 points, respectively. Along with securing a place in the top ten, Ford also rounded off the top five with an increased score of +1.0 points.
Download the full report here.
Methodology:
The data included in the YouGov Auto Rankings 2023 has been drawn from YouGov BrandIndex. ​
For the brand ranking, brands were ranked based on their 'Index' score. In this metric, we use an average across brand overall health, including General Impression, Satisfaction, Quality, Corporate Reputation, Value and Recommendation.​
Brands were ranked by this Index score between January 1, 2022, and December 31, 2022. To determine the biggest improvers, brands were sorted by change in score between that time and the previous twelve months. ​
All scores listed have been rounded to a single decimal place; however, we have used additional precision to assign ranks. All brands must have been tracked for at least six months to be included in either ranking.​