YouGov releases global ranking of best car brands
Half of the top ten consists of Japanese automotive manufacturers
Mercedes-Benz comes in second for Quality (+41.7) and Reputation (+36.5)
Ford comes in third for Satisfaction (+12.3)
Toyota tops YouGov's 2021 Automotive Rankings for Australia with an Index score of +43.9, making it the car brand with the best overall brand health according to Australians.
The rankings are compiled using YouGov BrandIndex Index score, a measure of overall brand health calculated by taking the average of Impression, Quality, Value, Satisfaction, Recommend and Reputation scores. The rankings are measured from 1 February 2020 to 31 January 2021.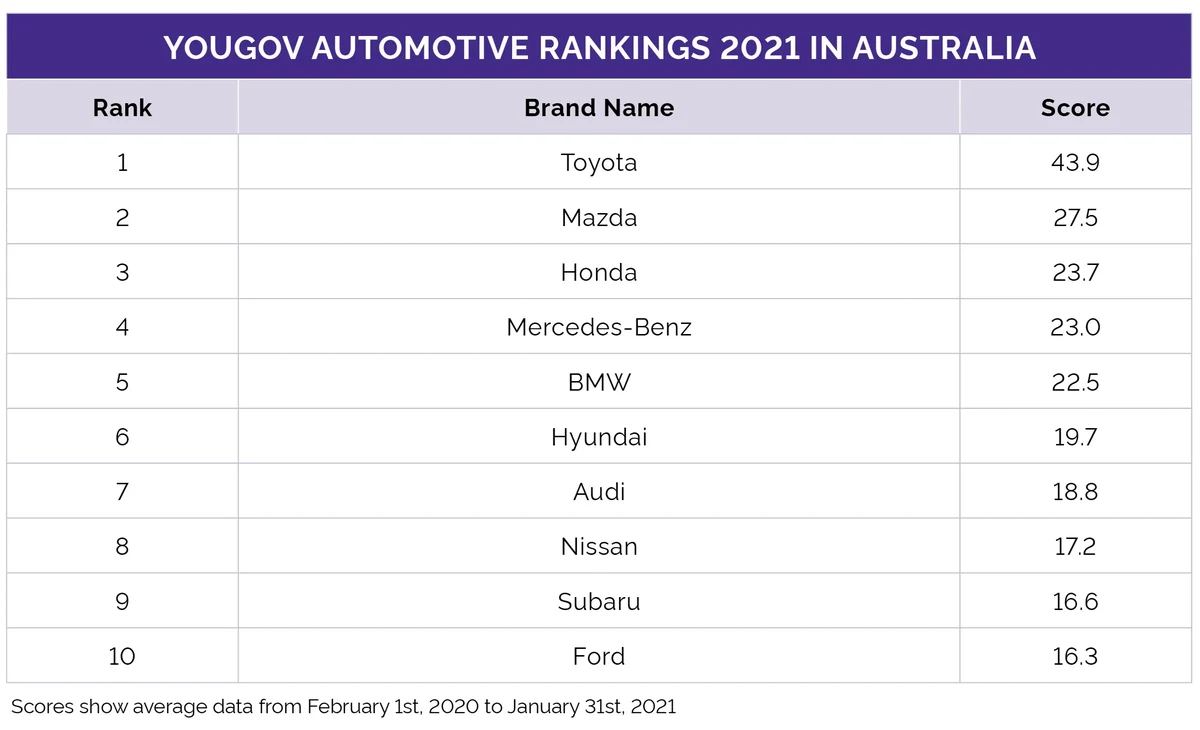 Toyota tops the charts in every metric, particularly for Value (which measures which brand consumers see to be of most value-for-money), with a score of +44.8 – with the next closest brand being Mazda with a score of +28.1. Toyota also smokes the rest of the competition when it comes to their Recommend score (+46.0), followed by Mazda trailing 17.6 points with a score of (+28.4).
Half of the top ten brands are Japanese, and they make up the top three the list. In second place is Mazda (+27.5), which also comes in second for not only for Value and Recommend but also for General Impression (+35.4), Satisfaction (+14.4). Honda rounds up the top three (+23.7).
German brands Mercedes-Benz (+23.0) and BMW (+22.5) take fourth and fifth respectively. While Mercedes-Benz comes is fourth place overall, it takes second for Quality (+42.1) and Reputation (+36.8) (which measures the corporate reputation of a brand by asking which brands consumers would be proud of working for). BMW follows Mercedes-Benz, coming in third overall for Reputation (+35.2) and Quality (+40.9).
In sixth place is the only South Korean brand to make the list is Hyundai (+19.7), followed by German brand Audi in seventh (+17.2).
Japanese brands Nissan (+17.2) is in eighth and Subaru (+16.6) in ninth. The list is wrapped up with American brand Ford in tenth (+16.3). While Ford comes in tenth, it stands out with its Satisfaction score – coming in third (+12.2) on that metric, indicating that Ford customers are more likely to be satisfied with their vehicles.