The aim of this piece is to answer the questions on the top of everyone's mind faster than Ariarne Titmus swam in her gold-medal-winning 400m freestyle. That's three minutes and 56 seconds.
What sports do Australians want to add to the Olympic schedule?
There has been a recent strategic push from the International Olympic Committee to appeal to a younger demographic to ensure the Games remain relevant for new generations. As such, we saw the introduction of skateboarding and BMX freestyle to the schedule in Tokyo, and we'll see breakdancing in Paris in 2024. Alongside these new additions, what other sports would Australians love to see?
Two sports stand out above the rest – netball and cricket. Roughly one in five Australians (22%) say they would most like to see netball added and 14% say the same about cricket. Netball Australia is looking to have the sport added before the Brisbane 2032 Games and the International Cricket Council (ICC) is pushing for a spot in time for Los Angeles 2028. The other sports rounding out the top five include squash, dancing (10%) and dodgeball (9%).
Further insights:
As the demographic gets older, they become significantly less interested in having new sports added to the Olympic games
Men (75%) are notably more likely to want new sports added to the Olympics compared to women (60%)
Men rated additions of nearly all sports higher than women except for netball, dancing, water skiing, wakeboarding and underwater hockey.
While dodgeball ranked 5th overall it was largely driven by the younger population (20% of 18-34-year-olds compared to 7% of those aged 35-49 and just 2% of those aged 50+).
What sports should be on the chopping block?
Since the first modern Olympic Games in 1896 we have seen many sports come and go. Many Australians say it's time for golf (19%) to go. This could be because having an all-day event taking up broadcast time may be frustrating for many - and of course, golf also enjoys a range of other highlights across any given year, not least its majors.
Interestingly, three of the four rounding out the remaining top five are new additions to Tokyo: three-on-three basketball (16%), artistic swimming (12%), BMX freestyle (9%) and skateboarding (9%). Were these bad additions? Are Australians traditionalists or do they just need more time to grow familiar with these sports?
Further insights:
Those aged 50+ are more likely to want Olympic sports removed in general compared to the younger cohorts
The support for four of the top five sports presented for removal is all largely driven by those aged 50+
Women (53%) are less likely to want sports removed from the Olympics compared to men (40%).
What were the best moments for Team Australia at the Tokyo Games?
The most popular Australian highlight of the Tokyo Olympic games was Emma McKeon's record-breaking seven-medal haul in the pool, which included four gold. She is now Australia's most decorated Olympian. In total 33% of Australians selected McKeon's feat as a standout moment.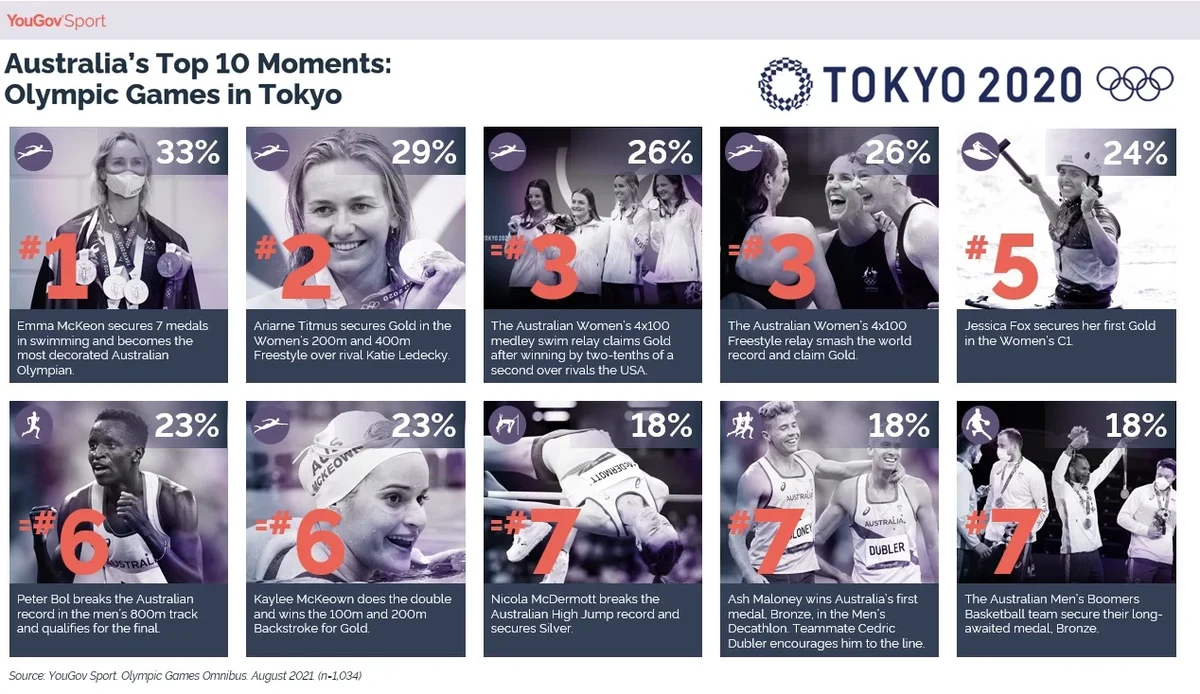 Other top moments include Ariarne Titmus securing gold in the 200m and 400m freestyle over arch-rival Katie Ledecky, and the Australian Women's 4 x 100m medley swim relay team claiming gold over the US by two-tenths of a second.
Further insights:
The top five moments were all for female athletes with only three men making the top ten
The same top five were all water sports – four in the pool, one on the water
Swimming-related achievements made up five of the top seven moments.