Labor pulls further ahead of Coalition, while Turnbull and Shorten are tied as preferred Prime Minister, YouGov-Fifty Acres poll shows
Labor has pulled further ahead of the Coalition on the two party preferred voting intention, according to the latest YouGov-Fifty Acres poll.
Labor have a six point lead on the two party preferred voting intention, on 53% (up one) while the Coalition are on 47% (down one).
The primary voting intention has Labor on 32% (down two), the Coalition on 32% (up one), the Greens on 10% (down one), and One Nation on 11% (no change).
There is a tie on who would make the best Prime Minister, with Bill Shorten and Malcolm Turnbull both on 31%. However, they both come behind "Don't know" on 38%.
Over four in ten voters (41%), including one in five Coalition supporters (20%), think Malcolm Turnbull is a weak leader, while just 21% think he is strong.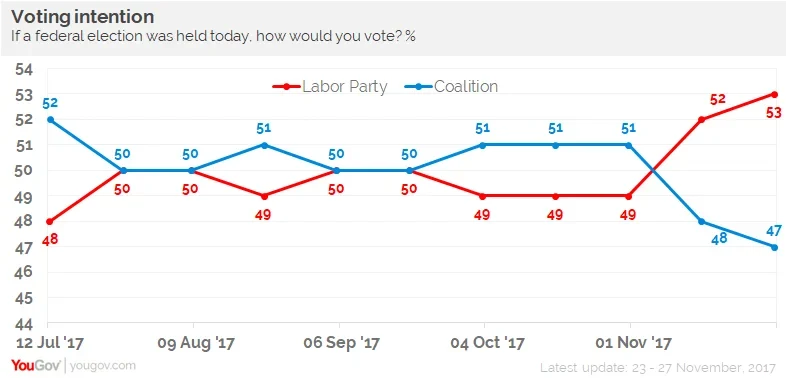 Opinions have shifted on dual citizenship, with more people now thinking the constitution should be changed to allow dual citizens to hold federal office.
In mid-October 37% of respondents were for changing the constitution and 45% were against. Now 46% think the constitution should be changed and just 40% oppose.
The biggest shift has come from Coalition voters. In October just 40% supported the change, but that number is now up to 58%.
However, people oppose changing the constitution to allow those who "hold any office of profit under the crown" to run for Federal office. Just 31% would support the changed compared to 47% who are opposed.
Meanwhile, most (43%) disapprove of the government's decision to cancel a sitting of the House of Representatives. Just 30% approve the decision.
People also view the two leading candidates in the Bennelong by-election favourably - 40% view John Alexander favourable, and 39% view Kristina Keneally favourably.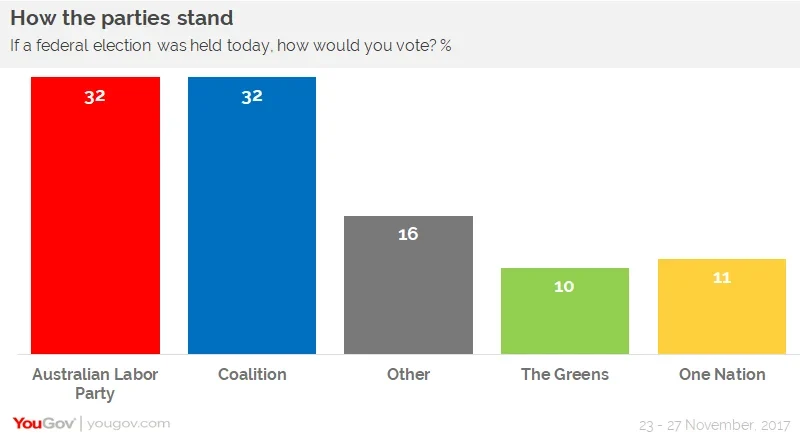 The poll also found Australians are in favour of religious protections being incorporated into same sex marriage legislation.
Nearly half (46%) believe that the bill to legalise same sex marriage should incorporate new religious protection laws, while 36% think it shouldn't.
Most people (55%) also believe the Australian government has a responsibility for the safety of the Asylum seekers on Manus Island in Papua New Guinea, compared to 36% who think it doesn't.
Lastly, after Malcolm Turnbull failed to name an AC/DC song, we asked how important it is for
politicians to be familiar with popular culture.
Four in 10 voters (40%) think it is important, but the majority (53%) think it's not.
Shareable URL
https://d25d2506sfb94s.cloudfront.net/cumulus_uploads/document/pfzr5cxrg2/50AcresResults_171127_Wave16.pdf
Methodology Overview
All figures, unless otherwise stated, are from YouGov. Total sample size was 1034 adults aged 18+ years. Fieldwork was undertaken between 23 rd - 27 th November 2017. The figures have been weighted and are representative of all Australian adults (aged 18+). The survey was carried out online.
This is the latest poll from YouGov, which has a proven record of accuracy in both US and UK politics. In the most recent UK election they were the first polling agency to correctly call the result, showing the country was heading for a hung parliament despite most other organisations showing a large lead for the Conservatives. All polling is subject to a margin of error so it is natural to see some variations from poll to poll.