Netflix takes the top spot in the annual YouGov BrandIndex Buzz rankings for the second successive year.
YouGov BrandIndex measures the public's perception of brands on a daily basis across a range of measures. The annual rankings are compiled using Buzz scores from across all 52 weeks of last year. Buzz scores measure whether people have heard anything good or bad about a brand during the previous two weeks.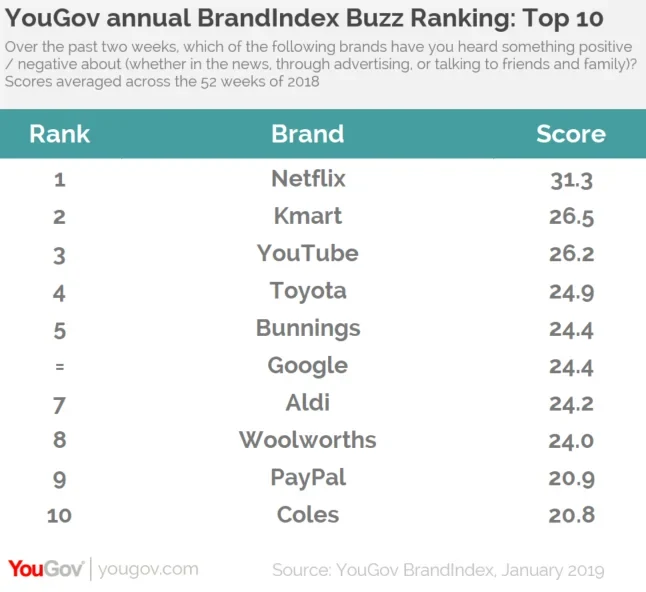 While the subscription video streaming service tops the list, retail brands feature prominently in the top ten. Retail store Kmart takes second place (26.5), hardware chain Bunnings tied in fifth (24.4), discount supermarket Aldi in seventh (24.2), hypermarket Woolworth's in eighth (24.0) and its competitor Coles in tenth (20.8).
Digital brands also make up a significant proportion of the list, with video sharing platform YouTube in third (26.2), internet technology giant Google tied in fifth (24.4) and digital wallet PayPal in ninth (20.9).
The list is completed with Japanese automotive manufacturer Toyota in fourth (24.9).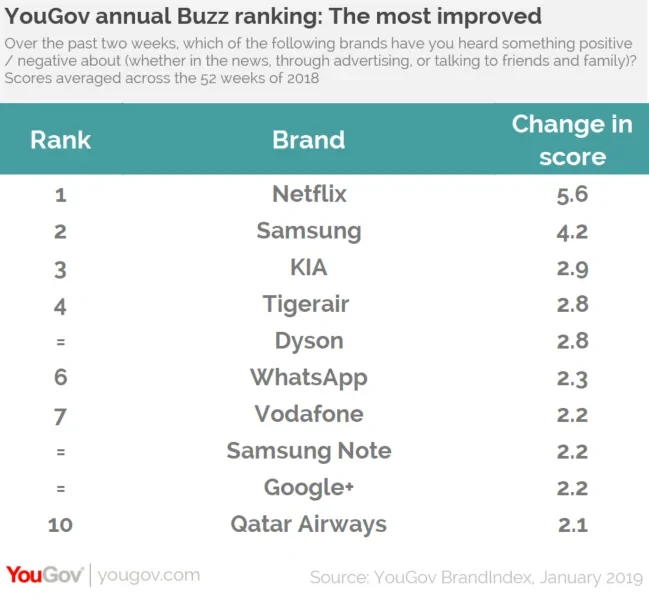 YouGov also reveals which brands had the most improved Buzz score. Netflix also tops this list with an increase of 5.6 points. It appears ahead of South Korean electronics manufacturer Samsung (up 4.2 points) and South Korean automotive manufactuer KIA (up 2.9 points).
Ervin Ha, Head of Data Products commented: "Getting people to hear good things about a brand isn't easy, but Netflix has continously generated positived buzz over the past year. Not only has it maintained its standing at the top of the tree but it has bolstered its position."