The Summer Olympics, initially postponed due to the pandemic, emerged as the buzziest sport event in Australia
While Australia's rankings are normally dominated by domestic competitions, the first local property – the Australian Football League (AFL) – only comes in at fifth place
International sporting events came up top in YouGov's 2022 Sports Buzz Rankings in Australia, as large-scale competitions made a steady return for the first time since the onset of the pandemic. The Summer Olympics (36.8) generated the most positive Buzz among the country's population, closely followed by the country's Olympic team (34.3). The Tokyo-hosted event was kind to Australians in terms of viewing times, but the performance of the country's Olympians also gave viewers plenty of cheer. In all, the country mustered 46 medals, 17 of them gold, matching (in respect of golds) the country's best ever Olympic performance.
YouGov SportsIndex measures the public's perception of sports brands on a daily basis across a range of metrics. The rankings in YouGov's 2022 Buzz Report are based on the Buzz scores, which measures whether respondents have heard something positive or negative about a brand recently.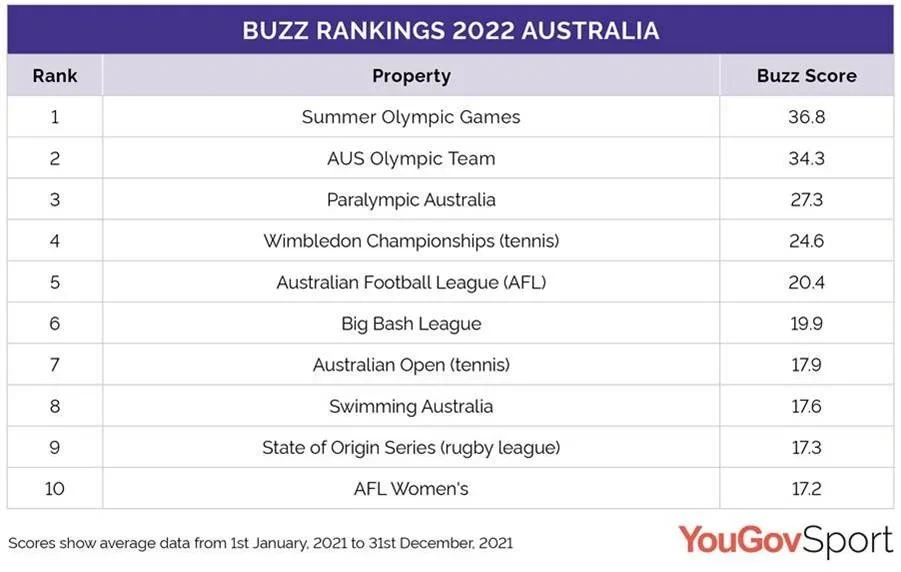 Australia's Paralympic contribution was also good, earning its athletes 80 medals in all, 21 of them gold, no doubt helping the Paralympic Australia to third place (27.3) in our rankings.
Wimbledon, a property which didn't feature at all in our last ranking sweeps into fourth place (24.6) here on the back of Ashleigh Barty's success in the singles. Her victory shows the value to sports competitions of having winners from a range of countries since it pushes events into the public consciousness.
The rankings in Australia are normally dominated by domestic competitions but this year we have to wait until fifth place to find a local property – the Australian Football League (AFL). The league is quickly followed by a slew of other domestic competitions including the Big Bash League (19.9), tennis' Australian Open (17.9), Swimming Australia (17.6), the State of Origin (17.3) and AFL Women's (17.2), now approaching its sixth season. The latter is an example of a new property which has quickly won – and then maintained – a high profile in a competitive market.
About YouGov SportsIndex
SportsIndex is one of YouGov Sport's signature tools. It operates in 35 markets around the world, tracking 200 key domestic and international competitions across more than 30 sports. A core of 21 properties is tracked in every market, allowing for international comparison. Many other events, leagues and tournaments appear in multiple markets; while some competitions are tracked only in the country which hosts them.
In every market, YouGov takes a list of the leading sports properties – a mix of domestic and international events, competitions and leagues – and, based on 700,000 surveys annually, measures the public's perceptions of them.
Every day, and for every property on our list, we track 16 separate brand metrics, providing a treasure chest of data for sports marketers and administrators.
SportsIndex gives our clients the capability to do everything from measuring the effect of yesterday's news headlines to establishing a season-on-season trend stretching back years. And because it operates internationally, users can track and compare properties across the world.
Methodology
The 2022 Buzz Report provides insight into all the sports events we monitor against just one of the 16 metrics we measure – 'Buzz'.
Every day, we ask 100 people these questions...
"Over the past two weeks, which of the following sports events/leagues have you heard something positive about?" and "Now which of the following sports/events leagues have you heard something negative about over the past two weeks?"
From the answers we collect, we derive a Buzz score for each event.
What's a Buzz score?
Our Buzz score is the difference between the percentage of respondents hearing positive news and the percentage hearing negative news about an event in the previous two weeks. So, depending on what is going on, an event's Buzz score can reveal whether conversations around a property are positive or negative at a point in time. Here is a graph charting the US Buzz score for the FIFA Women's World Cup over 2018 which shows how this metric can change over time.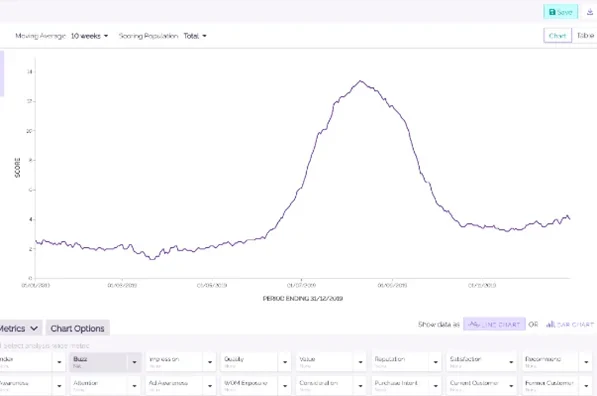 Buzz scores can range from +100 (where everyone we asked has heard something positive) to -100 (where everyone we asked has heard something negative). A completely neutral score, therefore, would be zero. A score of 45 would show positive sentiment towards a property, by a margin of 45 percentage-points.
For our Buzz rankings here, we look at the highest average Buzz score each property has scored each calendar month. Then we take the highest of those twelve scores and compare them with highest monthly scores of every other property we track in that market. We track up to 80 properties in each country but for the sake of this report, we display only the top ten in each market overall (typically a mix of domestic and international). In addition, we show a top five or top ten ranking for each market for those competitions hosted or held (in part or in their entirety) in each market over the year.