These financial services brands have been the most successful at converting aware consumers into considerers
YouGov Finance Purchase Funnel Rankings 2021 highlight the top-ten brands successful at converting consumers through the purchase funnel over the past year across key categories in the Finance sector.
The rankings are based on YouGov BrandIndex's Consideration score among consumers who are Aware of each brand, over a period of 12 months. The rankings are measured from 1st September 2020 - 31st August 2021.
The Top 10 rankings in Australia are divided into three categories: Banks, Insurance and Payment Systems.
Banks
The top 10 rankings within the 'Banks' category is dominated by home grown financial brands, with Commonwealth Bank (CBA) topping the rankings (33.8), followed by ING (24.9) and ANZ (24.8).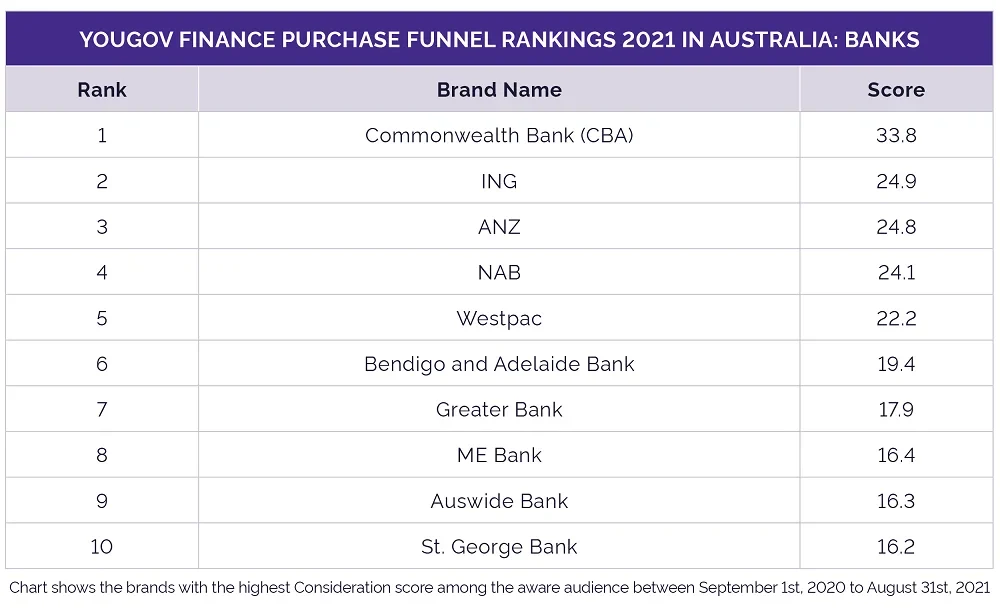 The rest of the list features other popular Australian financial brands such NAB (24.1), Westpac (22.2), and St. George Bank (16.2).
Other notable brands that make it to the top ten this year include Bendigo and Adelaide Bank (19.4), Greater Bank (17.9), ME Bank (16.4) and Auswide Bank (16.3).
Insurance
Australian mobility clubs RACV/ RACQ/ RAA/ RAC / RACT are the top performers in the 'Insurance' category, with a consideration score of + 31.1.
NRMA Insurance is second (19.8) in the list followed by travel insurance firm Cover.More in third (18.6) and general insurance provider AAMI in fourth (18.0).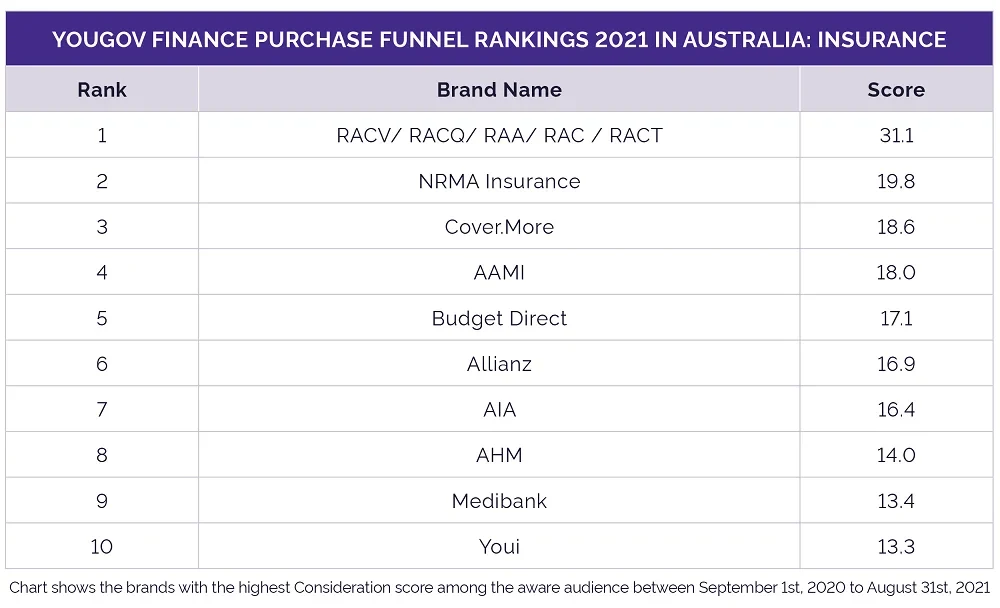 Australia's award-winning insurer Budget Direct appears in fifth (17.1), along with other popular Australian brands like AHM (14.0), Medibank (13.4) and Youi (13.3).
Apart from local brands, multinational insurance company Allianz, which has a legacy of over 100 years in Australia also featured in the list in sixth (16.9) place, followed by American insurance brand AIA in seventh (16.4).
Payments Systems
In Payments systems category, global leader in online payment transactions PayPal emerged on top (53.7), followed by Visa (37.9) and Mastercard (34.1).
Finally, rounding up the top 5 list for Australia in this category are BPNL payment brands Afterpay (26.0) and Zip/Zip Pay/Zip Money (21.8).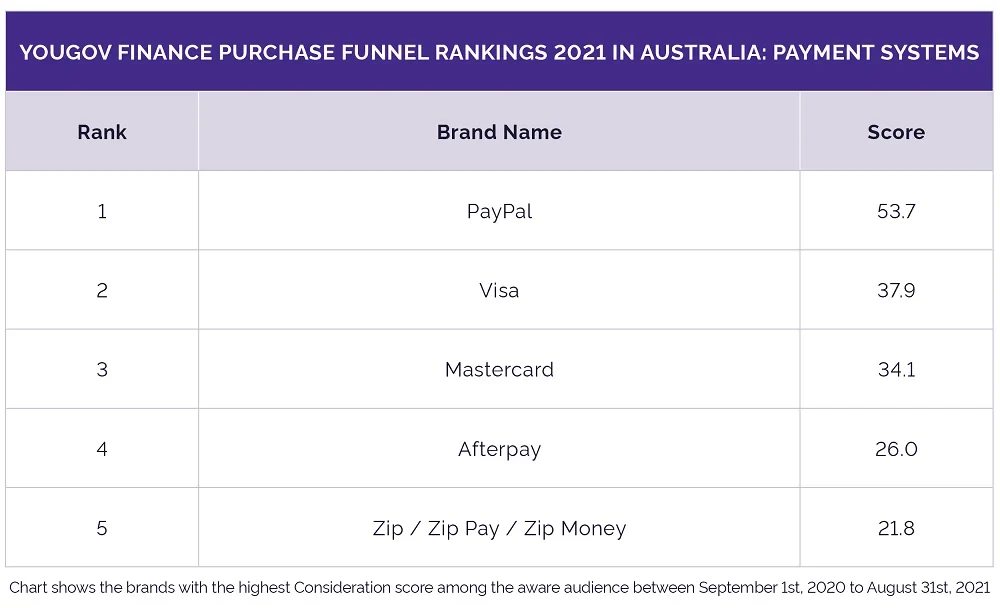 Methodology:
The brands in YouGov Finance Purchase Funnel Rankings are ranked based on their Consideration score among consumers who are Aware of each brand. This allows us to show which brands are most successful at converting Aware consumers into ones that would consider the brand when next in-market.
To identify the Aware audience we ask, 'Which of the following brands have you ever heard of? Please select all that apply.' And in follow up we ask the Consideration question, 'When you are in the market next to use a product or service from a Financial Services brand, which of the following would you consider?'. The questions vary slightly from this template in different sub-sectors and regions.
The rankings chart shows the brands with the highest average Consideration score between 1st September 2020 - 31st August 2021. The scores are representative of Aware consumers within the general population of adults 18+.
All scores listed have been rounded to a single decimal place; however, we have used additional precision to assign ranks. All brands have been tracked for at least 6 months to be included in the rankings.
Get in touch to know more