The CharityIndex Rankings highlight the most-considered philanthropic and non-governmental organisations among Australians
Australia's RSPCA has topped YouGov's Charity Rankings 2022 for the nation, with a Consideration score of 30.8.
YouGov CharityIndex measures the public's perception of charities and non-governmental organisations (NGOs) on a daily basis across a range of measures. The charity rankings were compiled using Consideration score – which measures whether respondents are likely to donate to a charity, across all 52 weeks of last year.
In second place is community organisation Guide Dogs (29.7), which supports individuals with visual impairments, followed by cancer charity Cancer Council Australia (29.4), which works to support research, seek policy change, implement programmes and offer support to those affected by cancer.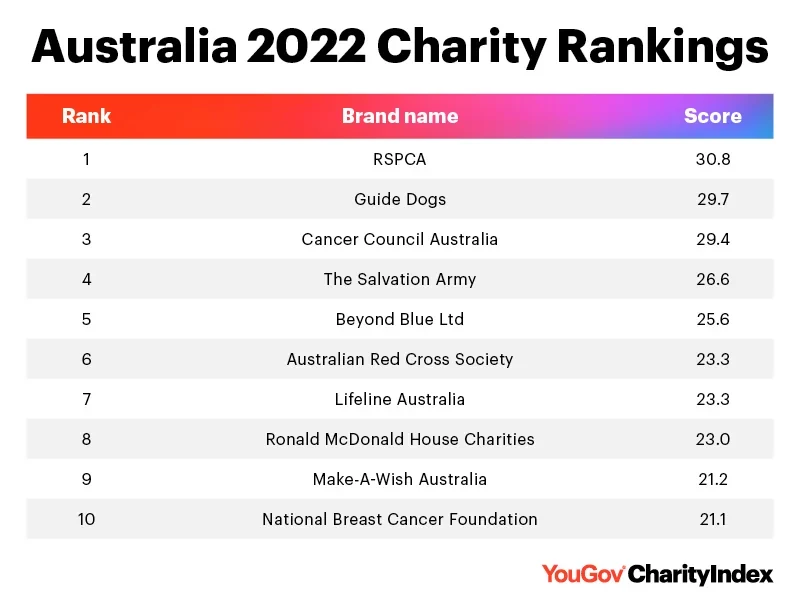 Next on the rankings are humanitarian aid and mental health groups, with The Salvation Army (26.6), Beyond Blue Ltd (25.6), Australian Red Cross Society (23.3) and Lifeline Australia (23.3) taking up the next four spots.
In eighth and ninth place are children's charities Ronald McDonald House Charities (23.0) and Make-A-Wish Australia (21.2), which support children who are seriously ill and create life-changing wishes for those who are critically ill respectively.
Rounding off the list of the ten most considered charity brands in Australia is the National Breast Cancer Foundation, with a Consideration score of 21.1.
Access the full rankings here.
Methodology:
The charities in the YouGov Australia 2022 Charity Rankings were ranked using the Donor Consideration score – a daily measure of which charities a respondent would likely donate to tomorrow – according to YouGov CharityIndex.
The rankings chart shows the brands with the highest average Donor Consideration score between 1 January to 31 December 2021. The scores are representative of the general population of adults 18+.
All scores listed have been rounded to a single decimal place; however, we have used additional precision to assign ranks. All brands must be tracked for at least six months in order to be eligible for inclusion in the rankings.