Recently, YouGov put a dilemma to the public: would you rather have a job you hate that pays well, or a job you love that pays poorly? The public overwhelmingly plumped for passion over pay, with just over half (55%) saying they'd rather have a poorly paid job they loved compared to 24% who'd prefer a well-paid job they hate.
But what proportion of Australian workers actually fall into these two categories? And how many Aussies have hit the jackpot of having a job they think is well paid and which they love?
To find out, YouGov Omnibus asked 529 Australian workers how much they like or dislike their jobs and compared this against how well or poorly-paid they consider their jobs to be.
How much do Aussies like their jobs?
Given that we spend so much of our life earning a living, it is good to see that the majority of workers feel positively about their employment. Close to half (44%) say that they like their job, while a lucky 27% have found jobs that they love. A further one in five (18%) neither like nor dislike their job.
However, nearly one in ten Aussies say they are unhappy in their work, with 5% saying they dislike their jobs, while 4% say they are in jobs they actively hate.
How well-paid do Aussies think their jobs are?
Half (53%) of Australian workers seem satisfied with their level of pay, with four in ten (37%) believing they are fairly well paid and 16% thinking they are very well paid. However, one in six Aussies consider themselves to be in jobs that pay either fairly (11%) or very (5%) badly, while three in ten (30%) think they are paid neither well nor badly.
Men are more likely to think they are paid well than women; 59% of men say that their job pays either very well or fairly well, compared to 46% of women. Overall, one in five women (19%) believe their jobs are badly paid.
So how do those results combine?
Overall, nearly half (46%) of Aussies are in fairly/very well paid jobs they like or love, including one in five (22%) that are in jobs they like consider to be fairly well paid and the 11% that have very well paid jobs that they love. On the other end of the scale, 3% are in fairly/very badly paid jobs they dislike or hate - with an unfortunate 1% being in what they consider to be a "very badly paid" job that they hate.
As for the original conundrum YouGov posed, it turns out only 1% of Aussies find themselves in one of the two scenarios: 0% are in poorly paid jobs the love, while 1% are in well paid jobs they hate.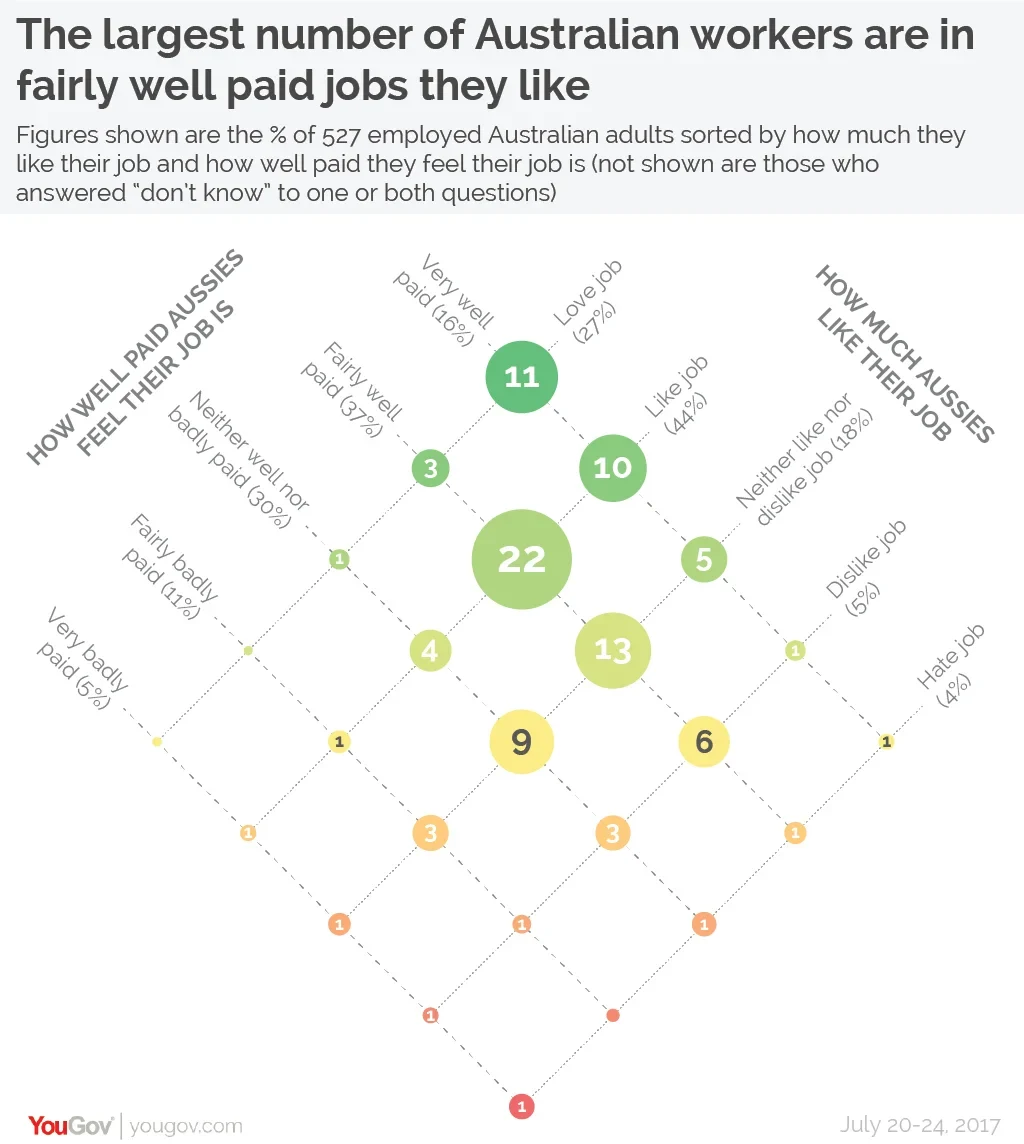 *Data was collected online between 20 to 24 July 2017 using YouGov's panel of over 5 million people worldwide. It was weighted to be representative of the population. Sample size: n=529