The best discussed brands amongst Australians aged 18 to 34.
Netflix is the most positively talked about brand amongst young Australians, new data from YouGov BrandIndex reveals.
The SVOD service tops the latest YouGov's rankings, which consider the brand 18 to 34 year olds have discussed with friends in favourable terms.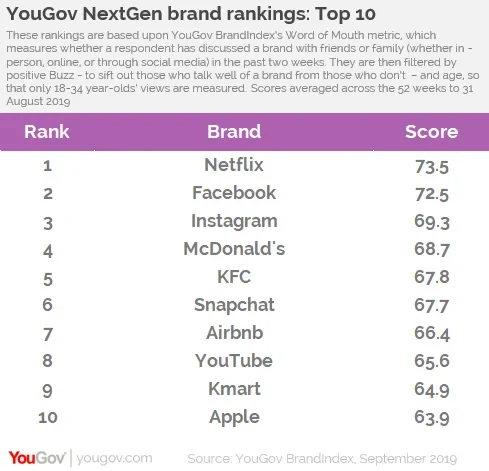 Netflix leads with a score of 73.5, but it is not the only digital brand on the list. It is joined by social media channels Facebook in second (72.5), Instagram in third (69.3) and Snapchat in sixth (67.7). Other digital brands include accommodation booking site Airbnb in seventh (66.4) and technology conglomerate Apple in tenth (64.9).
Fast-food restaurants also have a presence in the top ten. McDonald's comes in fourth (68.7) and KFC in fifth (67.8). The list is rounded out by supermarket chain Kmart in ninth (64.9).
Ervin Ha, YouGov's APAC Head of Data Products commented: "Netflix has clearly won over millennials, with their wide selection of content and their own brand of Netflix Originals. Whether discussing their favourite titles or recommending people to the service, the brand has succeeded in getting young Australians talking about the brand on a large scale."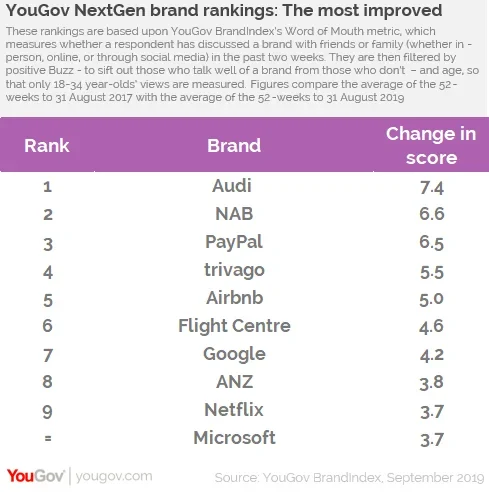 The rankings also show which brands have experienced the greatest uplift in the positive word of mouth over the past 12 months. German automobile manufacturer Audi, tops the improvers list with its score increasing by +7.4 points. It appears ahead of NAB (+6.6), PayPal (+6.5) and trivago (+5.5).
The NextGen Rankings use 'WOM by positive Buzz' scores from BrandIndex among 18-34 year-olds. Respondents are asked whether they have heard anything positive about a brand in the last two weeks, through advertising, news, or word of mouth, and brands with low response volume are eliminated. The remaining brands are ranked on Word of Mouth scores, which look at whether respondents talked about the brands with friends and family in the past two weeks (whether in person, online, or through social media).