The Victoria lager is seen as the best value beer in Australia, Heineken is seen as the best quality
Latest data looks at Australia's best and worst beers, ranking them by value and quality.
Victoria's Carlton Draught is the beer that Aussies believe gives most value for money, new data from YouGov Plan & Track reveals.
The lager tops the list with a score of 12.6, with Dutch pale lager Heineken in second place (10.8), Great Northern in third (9.3), Corona in fourth (8.2) and Hahn in fifth (8.1). At the bottom of the list for poorest value for money beer is "red tins" West End, coming in with a score of -2.4.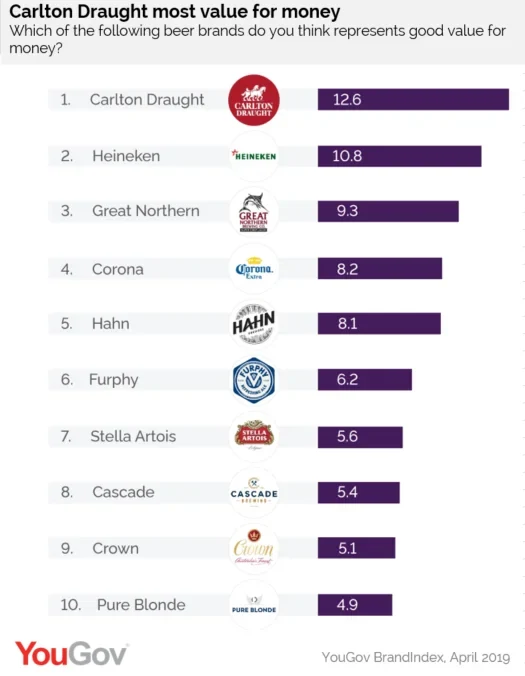 YouGov BrandIndex tracks consumer brand perception and purchase behaviours on a variety of metrics. Its Value score asks consumers which brands constitute good value for money, and its Quality looks at which brands consumers perceive to be of good quality.
Some big-name Australian beers don't make it into the top ten for value, with XXXX Gold coming in eighteenth (1.4), Fosters coming in nineteenth (1.3) and Victoria Bitter coming in second to last (-2.1).
While Heineken is second when it comes to value, it tops the list when it comes to quality – with a score of 27.8. Mexican pale lager Corona comes in second (24.4), followed by Stella Artois in third (18.1), Crown in fourth (16.7) and Peroni in fifth (16.5). West End also comes in at the bottom of the list for quality, with a score of -1.3.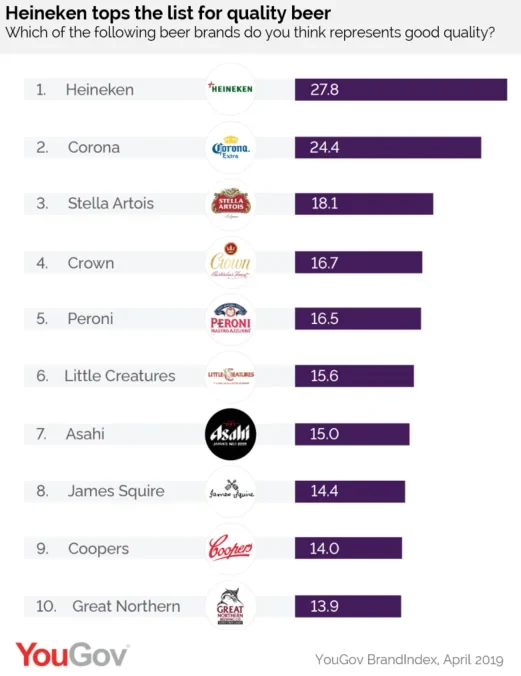 Giles Haynes, Sales Director at YouGov Galaxy commented: "The alcohol industry – and lager brands in particular – is becoming increasingly competitive. With the introduction of craft beers from microbreweries, and with beer drinkers moving away from corporate giants in favour of smaller brewers with unique flavour, even big-name beers are under pressure to keep up their appeal to target audiences while maintaining quality and value."