The Australian Open takes first place in YouGov Sport's Australia 2021 Rankings with a score of +35.4. The rankings show the ten sporting properties which generated the most positive buzz among Australians in the last year.
The ranking is based on YouGov SportsIndex data which measures the public's perception of sports teams, events and leagues on a daily basis, compiling the highest four-week average Buzz scores to create the rankings. Buzz scores are a net measure of whether respondents have heard positive and negative news about an event or sports property in the last fortnight.
The first major tennis championship of the season tends to garner huge interest amongst sports fans and the presence of Roger Federer, Rafael Nadal and Novak Djokovic ensured significant buzz around last year's tournament. The 'Big Three' of men's tennis all made the quarter finals and catapulted the tournament to the top of the YouGov Sport's UK Australia 2021 Rankings.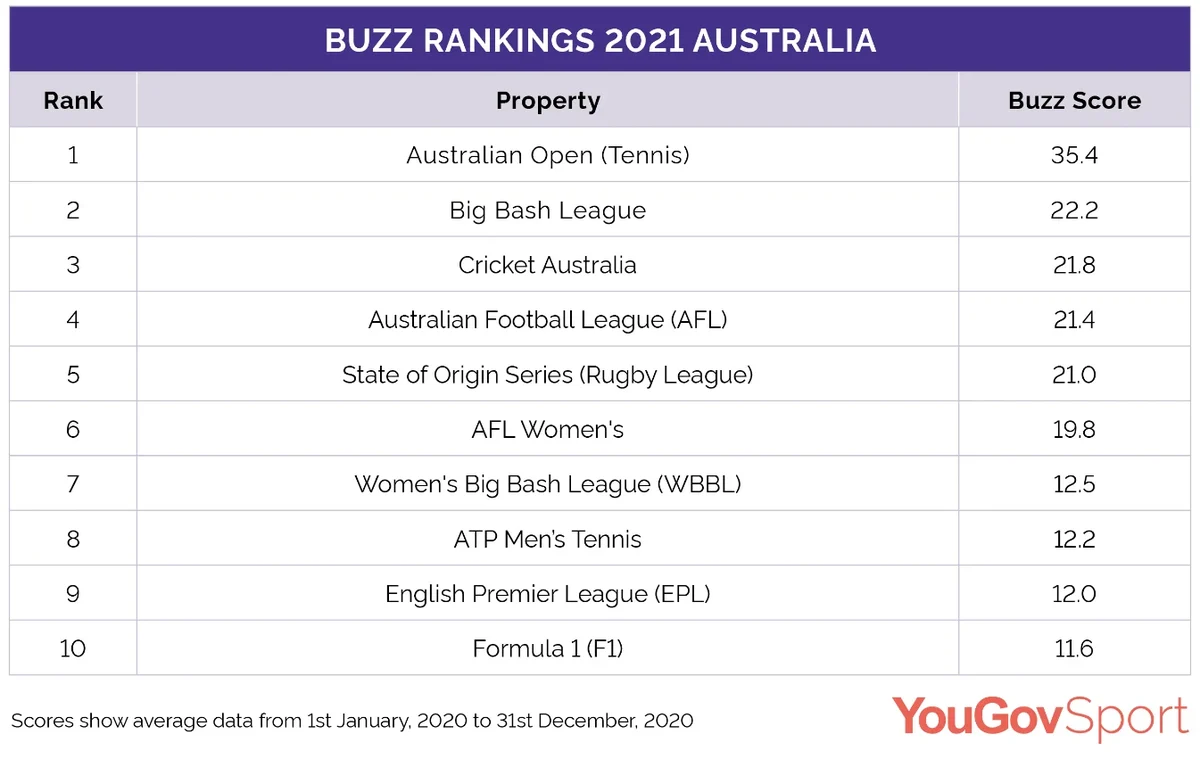 While the Australian Open leads the top ten, Australia's national sport, cricket dominates the list taking three of the top ten spots.
In second place with a peak score of +22.2, the Big Bash league drew enormous crowds across the country to catch games, particularly those featuring legendary South African batsmen AB de Villiers who participated in the tournament for the first time. The Big Bash League is followed closely by Cricket Australia (+21.8) the nation's official governing body for cricket. In seventh place the Women's Big Bash League scored +12.5, not far behind Women's AFL in sixth place on a score of +19.8 reflecting the ever-increasing popularity of women's sport both in Australia and globally.
Aussie Rules also has a strong presence on the list. Although put on pause due to the pandemic, the Australian Football League resumed three months later than planned. Taking the fourth spot on the ranking, it hit a peak score of +21.4 in October as Richmond Tigers claimed a second consecutive title. AFL Women's is in sixth place with a score of +19.8.
Sandwiched between the men's and women's AFL was Rugby League's State of Origin Series in fifth place on the list; often described as Australian sports greatest rivalry, New South Wales won a series decider and consecutive series for the first time since 2005 creating significant buzz around the fiercely fought contest.
The final three places were taken by ATP Men's Tennis which scored +12.2 in January, the English Premier League which hit a peak of +12.0 in February and the Formula One World Championship which scored +11.6 in September.
Commenting on the research, Ned Morris Managing Director of YouGov Australia & New Zealand – Sports, said: "The pandemic might have resulted in delays and disruptions to live sports events, but has clearly not impacted Aussie sports fans from chattering about their favourite sports leagues. While the Australian Open tops the list, it appears that cricket is what has dominated Aussie conversations this year. As the pandemic rolls on, it will be interesting to see how sporting leagues continue to adapt, to keep the games going."
About YouGov SportsIndex
SportsIndex is one of YouGov Sport's signature capabilities. It operates in 33 markets across the world, tracking 200 key domestic and international properties across 30 sports.
In every market, it takes a list of the leading sports properties – a mix of domestic and international events, competitions and leagues – and, from 1.8m surveys annually, it measures the public's perceptions of them.
Every day, and for every property on our list, we track 16 separate metrics, providing a treasure chest of data for sports marketers and administrators.
SportsIndex gives our clients the capability to do everything from measuring the effect of yesterday's news headlines to establishing a season-on-season trend stretching back years. And because it operates internationally, users can track and compare properties across the world.
When combined with BrandIndex, which measures perceptions of more than 13,000 brands globally across 38 markets, you have one of the most powerful solutions in
the sports world for informing strategy, finding partners and reacting to events.
Methodology
The 2021 Buzz Report provides insight about all the sports events we monitor against just one of the 16 metrics we measure – 'Buzz'.
Every day, we ask 100 people this question...
"Over the PAST TWO WEEKS, which of the following sporting events have you heard something positive/negative about?"
From the answers we collect, we derive a Buzz score for each event.
What's a Buzz score?
Our Buzz score is the difference between the percentage of respondents hearing positive news and the percentage hearing negative news about an event in the previous two weeks. So, depending on what is going on, an event's Buzz score can reveal whether conversations around a property are positive or negative at a point in time. Here is a graph charting the Buzz score for the FIFA Men's World Cup over 2018 which shows how this metric can change over time.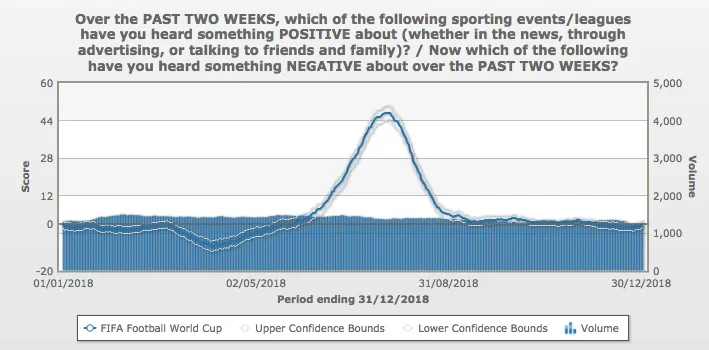 Buzz scores can range from +100 (where everyone we asked has heard something positive) to -100 (where everyone we asked has heard something negative). A completely neutral score, therefore, would be zero. A score of 45 would show positive sentiment towards a property, by a margin of 45 percentage-points.
For our Buzz rankings here, we look at the peak, average highest Buzz score each property has scored each calendar month. Then we take the highest of those twelve scores and compare them with highest monthly scores of every other property we track in that market. We track up to 80 properties in each market but for the sake of this report, we display only the top ten for 2020.