New YouGov research also reveals rugby and soccer superfans are the most supportive of sporting organisations backing same-sex marriage
It is believed to be the first time in the world that any major sporting organisation has publicly supported gay marriage [1]. However, that support drew what was described as a "public backlash" with hundreds of negative comments appearing on social media. There was also strong criticism from highprofile AFL commentator Sam Newman and NRL commentator Erin Molan.
In view of this, YouGov partnered with Monash University to measure the public's view, and specifically the response from "superfans" - those who heavily engaged in sport, to see how Aussies perceive sporting organisations' stance on same-sex marriage.
Results show that the majority of Aussie millennials agree with the decision of sporting organisations such as the AFL, NRL, ARU, FFA and Cricket Australia to come out in support of same-sex marriage. However, there's a strong generational divide. While the majority of millennials (71%) think it was the right thing to do, the majority of baby boomers (57%) think it was wrong for sporting organisations to publicly support same-sex marriage.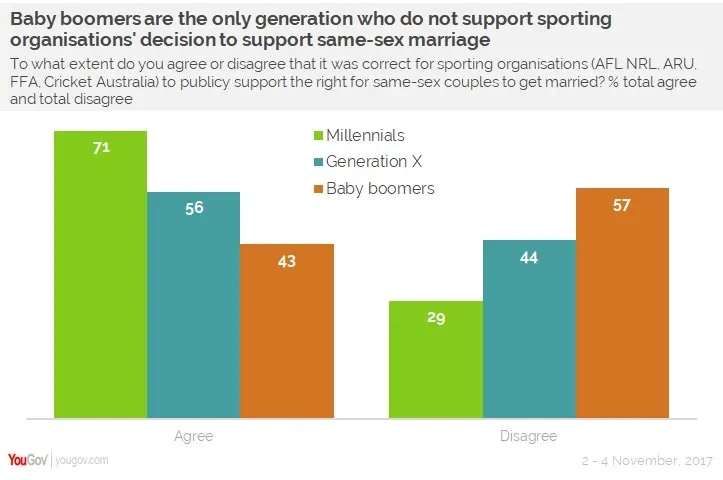 The generational split tracks a similar divide over support for same-sex marriage more broadly, which sees support from 67% of millennials and 49% of baby boomers.
Overall, 58% of Aussies express support for same-sex marriage in the survey and a similar number, 56%, say that sporting organisations were right to come out in support of the issue.
Three-quarters of millennials say sporting organisations' support of same-sex marriage helps keep Australian sport relevant to young people
More than six in ten respondents (62%) say that being strong advocates on social issues, including ending discrimination against gays and lesbians, will help Australian sports remain relevant with young people. This rises to nearly three-quarters (73%) among millennials but falls to 51% among baby boomers.
Even some opponents of the sporting organisations' decision are pragmatic about its impact. Nearly three in ten (28%) of those who strongly disagree with sporting organisations' support for same-sex marriage agree that it helps sporting organisations stay relevant with young people.
Three-quarters (74%) of rugby superfans believe sporting organisations were right to publicly support same-sex marriage
Differences are seen among the 'superfans' of each sport. Rugby and Soccer superfans (as determined by their engagement with their sport) are the most likely to agree it was correct for their sports to support same-sex marriage, and the AFL the least likely.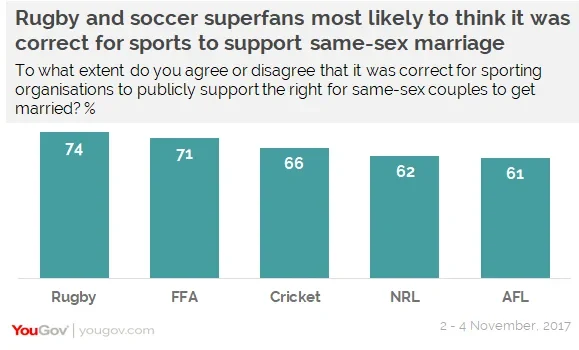 The study also finds that sports fans are not any more likely to support same-sex marriage than those who are not highly engaged with sports. If anything, cricket supporters are found to be slightly less supportive of same-sex marriage than the general population (53% of cricket fans support same-sex marriage, compared with 58% of the overall population). This is similarly the case for soccer fans. 57% of rugby fans express support for same-sex marriage, bringing them in line with the broader population.
However, sports fans are most likely to be supportive of sporting organisations' decision to support same-sex marriage. Three quarters (74%) of rugby superfans agree with the decision; significantly higher than the 56% of the general population that feel the same way. This compares with 71% of soccer fans and two-thirds (67%) of cricket superfans who agree that sporting organisations made the right decision in their public support of same-sex marriage.
Sej Patel, YouGov's Head of Australia, comments, "The research find Australians recognise both that same-sex marriage is an important issue to young people and the public support by the sports will help bolster their relationship with young people. For organisations looking at engaging more with the young generation, this would be something they should pay more attention to."
Experts at Australia's Monash University are investigating the effect when sporting organisations support social issues such as gay rights, gender equality or addressing gambling addiction. Associate Professor Kerry O'Brien, Director of the Behavioural Science Laboratory, says, "Given the cultural importance of sport to many Australians, sports and sport administrators can play an important part in addressing important social and health issues. This research shows the majority of Australians, particularly core sport fans, support the big sports taking a stance on gay marriage, and they should be encouraged to lead in other areas as well."
*Data was collected online by YouGov Omnibus between 2 and 4 November 2017 among 1,003 respondents in Australia. Results are representative of the adult population.
Photo source: Young people are the strongest backers of same-sex marriage (AAP: Carol Cho)
Note:
[1] Based on research by Monash University on the support by sports for social issues