YouGov's APAC Quick Service Restaurants (QSR) rankings identify the top 10 casual dining brands in various Asia-Pacific markets. These are the brands that have achieved the highest average net score of six brand health metrics over the past twelve months: General Impression, Quality, Value, Corporate Reputation, Customer Satisfaction, and Recommendation. Data is taken from YouGov BrandIndex, a syndicated brand tracker which continuously collects data on thousands of brands around the globe every day.
Subway tops YouGov's 2022 Dining and QSR rankings in Australia. The American sandwich restaurant's Index score of 26.4 places it ahead of 35 other popular quick service restaurants in the market. Subway also ranked first in last year's QSR rankings (27.6), but its score has fallen by 1.2 points this year.
Bakers Delight takes the second spot with an Index score of 22.7, while fried chicken restaurant KFC clinched third place with an Index score of 15.9 this year. Both brands retained their 2021 rankings with almost or exactly the same score as last year (22.8 and 15.9 respectively).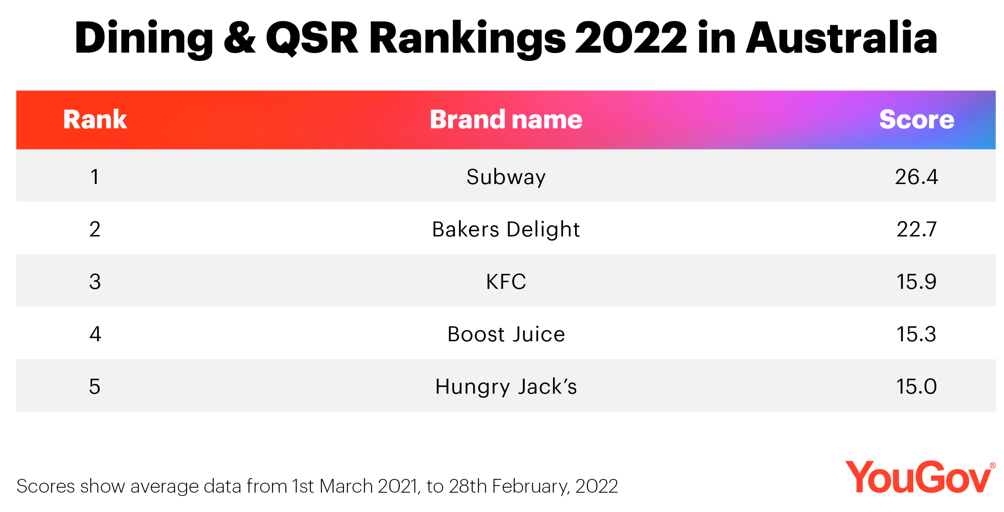 Boost Juice, an Australian fruit juice and smoothie brand, achieved an Index score of 15.3 to come in fourth. Burger King franchise Hungry Jack's and health-minded burgers restaurant Grill'd both scored an exact 15, to take the fifth and sixth positions (additional precision was used to assign rankings). All three brands retained the same rank from 2021, with very slight drops in their brand health scores.
The Coffee Club (13.3) and McDonald's (12.4) swapped positions from last year, with the café chain moving up one place to finish seventh, and the hamburger restaurant moving down one spot to finish eighth.
Domino's Pizza (12.3) and Nando's (11.9) likewise exchanged positions, with the pizzeria chain rising one spot to ninth this year, and the flame-grilled chicken restaurant dropping one spot to round out Australia's top 10 QSR brands in 2022.
Want to see which QSR brands are among the top 10 in other APAC markets this year?
Download your free copy of the complete YouGov APAC QSR Rankings 2022 report covering: Australia, China, Hong Kong, Indonesia, Malaysia, Singapore, Thailand here.
To receive monthly insights about the retail industry register here.
To read YouGov's latest intelligence on the retail sector explore here.
Methodology: YouGov APAC QSR Rankings 2022 ranked brands according to their Index score, which is a measure of overall brand health calculated by taking the average scores of the following BrandIndex metrics: General Impression, Quality, Value, Corporate Reputation, Customer Satisfaction, and Recommendation.
The Index Rankings chart shows the brands with the highest average Index scores between 1 March 2021 and 28 February 2022 – and which have been tracked for at least 6 months. All Index scores listed have been rounded to a single decimal place; however, we have used additional precision to assign ranks.