Kmart tops YouGov's annual list of the best-rated brands among women.
The brands that make the best impression on Aussie women fall into two main categories – retail and online, new analysis from YouGov Plan & Track shows.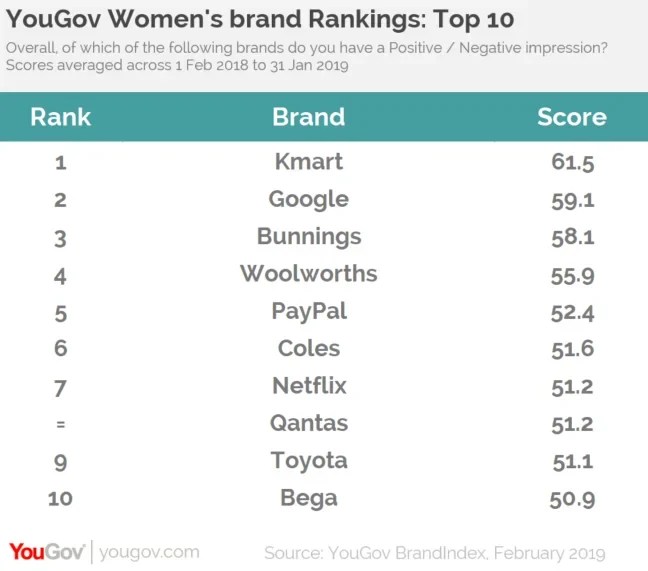 YouGov's women's rankings looks at the brands that have left the most positive impression on women in Australia. Kmart comes up top, with a score of 61.5. It is followed by other retail chains Bunnings in third (58.1), Woolworths in fourth (55.9) and Coles in sixth (51.6)
Online companies also fare well in the top ten, with new entrant SVOD platform Netflix at seventh (51.2). It replaces last year's competitor YouTube. Google comes in second and Paypal comes in fifth (52.4), showing it is the preferred digital payment solution amongst Australian women.
The list is completed with national carrier Qantas tied in seventh (51.2), Japanese automobile manufacturer Toyota in ninth (51.1), and dairy brand Bega coming in tenth (50.9).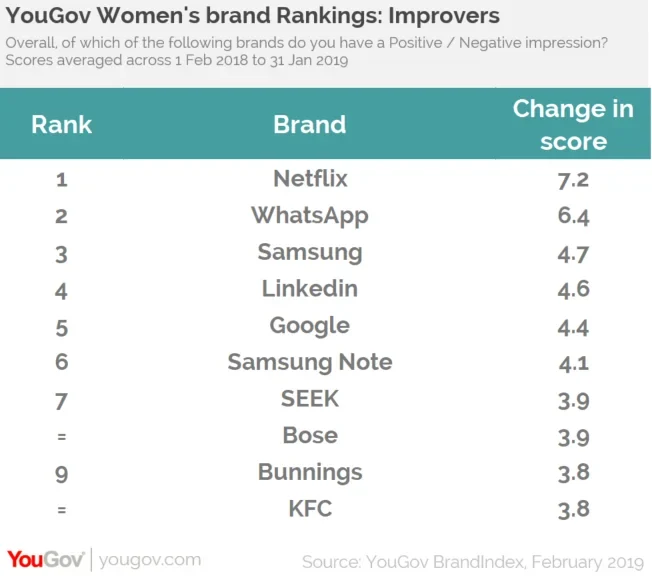 The rankings also reveal which brands have seen the biggest increase in impression among women over the past year. Netflix takes the top spot with a score increase of +7.2 points, followed by messaging platform WhatsApp in second (up +6.4 points) and South Korean electronics giant Samsung in third (up +4.7 points).
Ervin Ha, Head of Data Products at YouGov APAC said: "Retail and online brands remain popular amongst Australian women. Maintaining a consistent positive impression on consumers is no easy feat, particularly in the competitive retail and digital landscapes. In spite of tough competition, Kmart has managed to emerge as a top brand amongst women."