More Australians vote yes for same sex marriage, support stricter gun laws and a clean energy target, two-party preferred YouGov-Fifty Acres poll shows
More Australians have voted yes in the same sex marriage postal vote than no, according to the two-party preferred YouGov-Fifty Acres poll.
Among those that have already voted, 61% say they voted yes, while 35% say no - the yes vote is higher among Labor voters at 76%, compared to Coalition voters at just 51%.
One in three Australians (30%) say they would have a more positive view of a brand that declares support for same-sex marriage, compared to 20% who say they would have a more negative view, and 46% who say it would make no difference.

The poll also found most Australians support stricter gun laws and a clean energy target. It comes as the Coalition today unveils a new energy policy and the United States was rocked by a deadly shooting in Las Vegas.
A majority of Australians (56%) think gun laws should be stricter, while just 7% want less strict laws - this support runs across party lines, with a majority of Labor (59%), Coalition (55%), Green (57%) and One Nation (57%) voters favouring stricter laws.
Most Australians also think dropping the 2020 clean energy target is a bad move - around four in 10 (42%) see it as bad, compared to three in 10 (32%) who think it's good.
Meanwhile, people still oppose changing the constitution to allow dual citizens to run for federal office - 45% oppose a change (down 4), while 37% support it.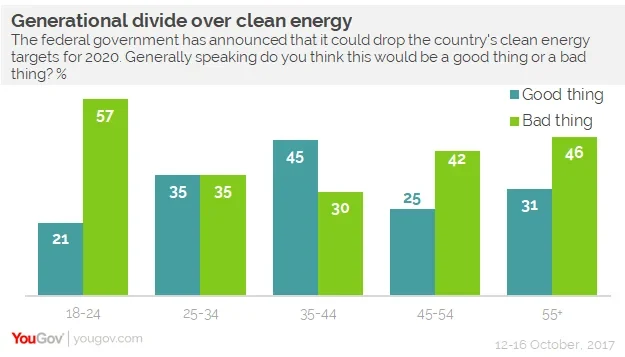 The two-party preference is steady, with the Coalition leading
The Coalition is leading on 51%, while Labor is on 49%.
The primary voting intention has Labor on 32% (down two), the Coalition on 34 (unchanged), the Greens on 11% (unchanged), and One Nation on 11% (up two). Other parties are on 13% combined.
Health and hospitals are still seen as the most important issue for voters, on 44%, followed by job security and unemployment (30%), living standards (30%) and the economy (30%).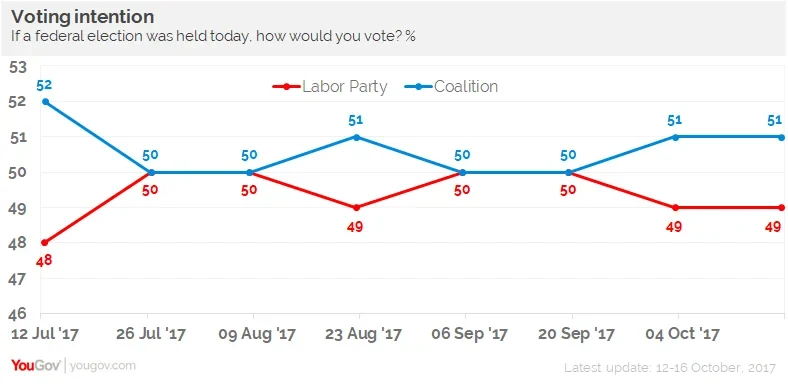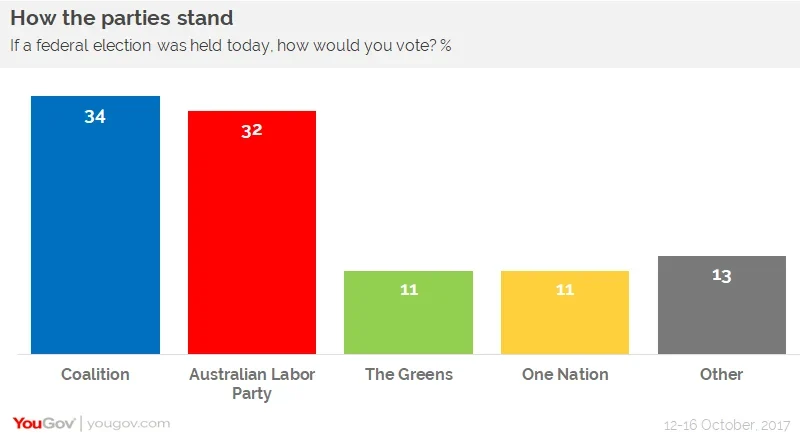 Shareable URL
https://d25d2506sfb94s.cloudfront.net/cumulus_uploads/document/6dku1w0cx2/50AcresResults_171016_Wave13_W.pdf

Methodology Overview
All figures, unless otherwise stated, are from YouGov. Total sample size was 1067 adults aged 18+ years. Fieldwork was undertaken between 12 October - 16 October 2017. The figures have been weighted and are representative of all Australian adults (aged 18+). The survey was carried out online.
This is the latest poll from YouGov, which has a proven record of accuracy in both US and UK politics. In the most recent UK election they were the first polling agency to correctly call the result, showing the country was heading for a hung parliament despite most other organisations showing a large lead for the Conservatives. All polling is subject to a margin of error so it is natural to see some variations from poll to poll.