56% of Australian fans think Pietersen would improve England's chances in the third Test. English fans put more faith in Jonny Bairstow
England's 169-run victory in Cardiff had Australian cricket-watchers feeling slightly less optimistic about their chances in the 2015 Ashes. But the Australian side's reply was resounding: a 405-run romp at Lords that, according to YouGov's latest survey on expectations for the series, has Aussie fans brimming with optimism again.
75% of Australians following the Ashes believe their team will win the third Test at Edgbaston, which begins Wednesday. Expectations among Ashes fans in England and Wales looks more like the 1-1 score in the series so far, with 39% predicting an England win, 36% an Australian win and 21% a draw.
Want to participate in surveys like this? Click here to join YouGov
Whereas 25% of English fans think they will win two more Tests (for a total of 3) and fewer than 1% expect to win all three of the remaining Tests, 71% of Australian fans expect to win at least two of the remaining Test matches (that is, three or four overall), including 15% who expect to win all three. And 57% of Australian respondents predict England will see no additional wins after Cardiff.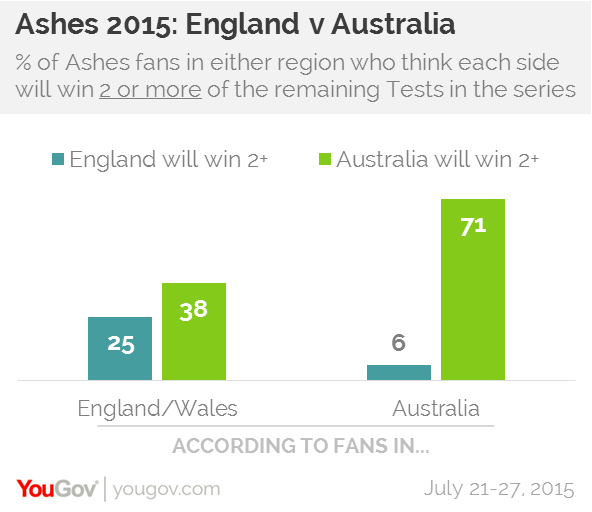 Hanging over the series has been England's decision not to call up batsman Kevin Pietersen – yet he is the potential selection that scares Australian fans most of all, with 56% convinced he would improve England's chances at Edgbaston. Jonny Bairstow, the wicket-keeper and batsman recalled to England's XI comes second, albeit with only 22%. Home fans disagree: 59% think Bairstow improves England's prospects, while only 46% think the same of Pietersen (respondents could make multiple choices).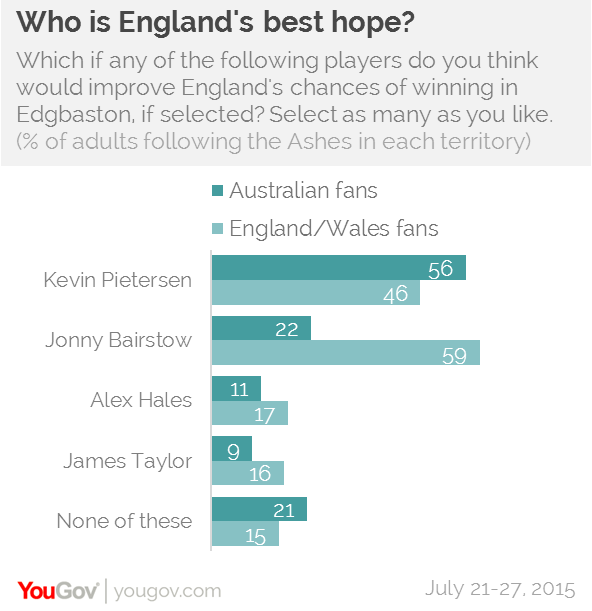 Most or all of the fieldwork in both regions (July 21-26 for Australia and July 26-27 for England and Wales) was completed after it had been announced on July 21st that Jonny Bairstow would be called up for the third Ashes Test.
Want to participate in surveys like this? Click here to join YouGov