A new international YouGov survey identifies 11 'food crimes' committed against Italian cuisine by the rest of the world
A 2018 YouGov survey found that Italian cuisine is the world's most popular. While that may prove a point of pride for Italy, a new international YouGov survey shows that elsewhere in the world many people are treating the cuisine in ways that will make Italians weep.
Late last year, YouGov compiled a list of 19 ways in which foreigners have been accused of abusing Italian food, and asked people in 17 countries and territories (including Italy) whether they were acceptable or unacceptable.
Of the list of 19, Italians see no problem with four: eating pizza for lunch (+89); having Bolognese sauce with spaghetti (+81); eating pizza with a fork rather than your hands (+69); and having meatballs with spaghetti (+58). Figures shown are net results, with positive numbers meaning more people say it as acceptable than unacceptable, while negative numbers mean more people consider it unacceptable than acceptable.
Another four are divisive to Italians: having risotto as an appetiser or side dish (+2); putting oil in the water you are cooking your pasta in (+1); snapping dry spaghetti before boiling it (-1); and adding plain pasta to a plate or bowl and then adding the sauce afterwards (-4).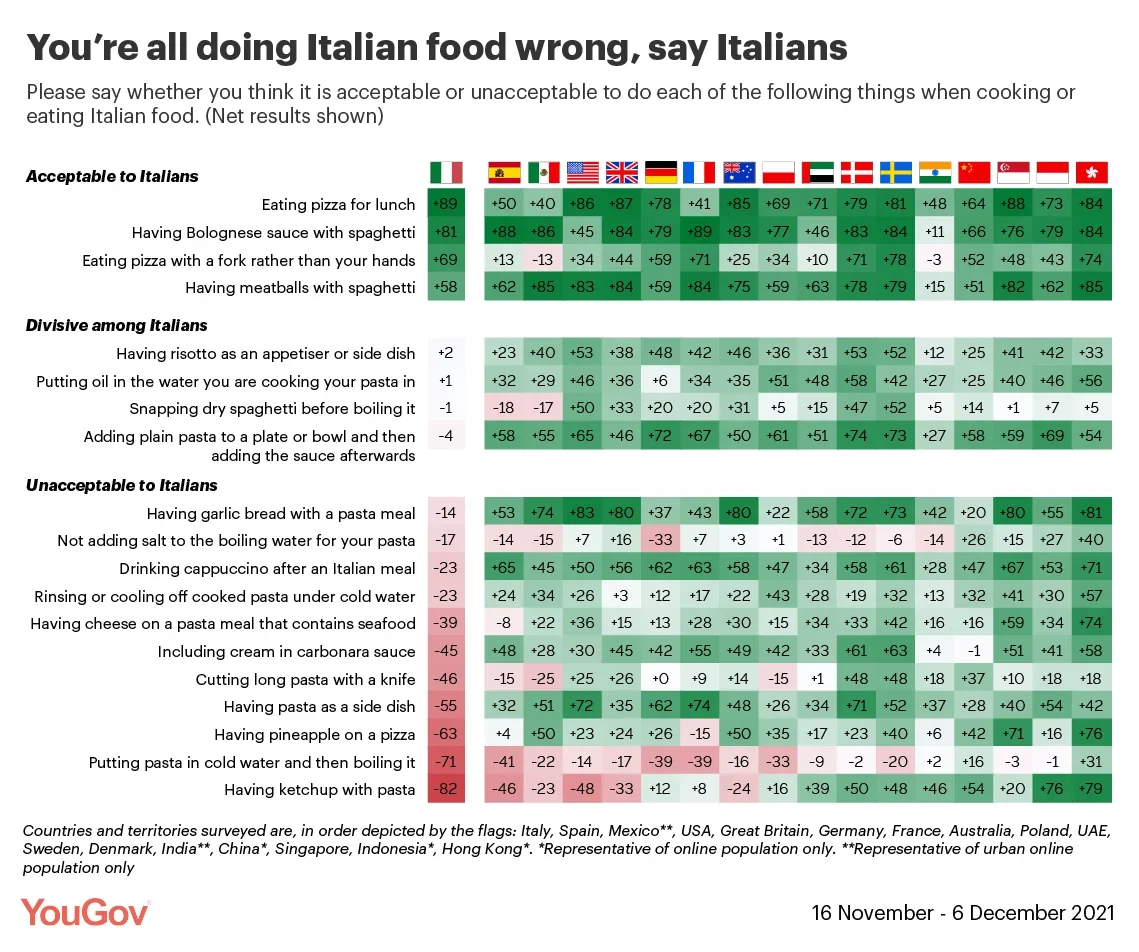 All of these are generally considered ok everywhere else in the world, however, although Spaniards (-18) and online Mexicans (-17) tend to be against snapping dry spaghetti prior to boiling.
But 11 culinary concepts from the list are judged by Italians to be crimes against their national cuisine.
The most distressing abuse of Italian food is having ketchup with pasta, scoring -82 overall. This is one of only two food crimes from the list that Americans also say is unacceptable (-48), with Spaniards similarly against (-46).
However, in 11 of the countries and regions surveyed, people tend to say that pasta and ketchup is perfectly fine, with online Indonesians (+76) and Hong Kongers (+79) especially enthusiastic.
Putting pasta in cold water and then boiling it also drives a knife through Italians' hearts at -71, making it the second biggest violation of Italian cuisine. This proves to be the most disdained practice around the world as well, with just online Chinese (+16) and Hong Konger (+31) respondents noticeably likely to say they think doing so is acceptable.
Americans again tend to see this as a crime against Italian food (-14), although it is far more likely to bother people in Spain (-41), France (-39) and Germany (-39).
Having pineapple on a pizza – the basis for the infamous 'Hawaiian' pizza – is the third worst thing you can do to the national cuisine, according to Italians (-63). Only in France, however, do people tend to disagree (-15).
Having pasta as a side dish bothers the fourth most Italians (-55) but marks the worst thing to Italians that people in all other countries and regions surveyed say is ok. Poles are the least likely among the rest of the world to say it is acceptable, but even here it scores +26 overall. The French are the most enthusiastic about having pasta as a plat d'accompagnement, at +74.
Other practices that are frowned upon in Italy but generally accepted everywhere else are rinsing or cooling off cooked pasta under cold water; drinking cappuccino after an Italian meal; and having garlic bread with a pasta meal.
Young and old Italians are at odds over some food rules
The results show shifting generational attitudes within Italy towards national culinary practices. The biggest comes with drinking cappuccino after a meal, something which 18-24 year old Italians tend to think is fine (+24), but which older age groups – and especially the over 55s (-36) – say is unacceptable.
Young Italians are also substantially more likely than their older peers to say that having garlic bread with a pasta meal, adding plain pasta to a plate or bowl and then adding the sauce afterwards, and having risotto as an appetiser or side dish are ok.
At the same time, younger Italians seem to have turned against adding oil to water when cooking pasta. Those aged 18-24 (-37) and 25-34 (-26) tend to consider this unacceptable, whereas their elders tend to see it as fine (+12 among those aged 55 and above).