Google is the brand that Aussies would be proudest to work for, new rankings from YouGov BrandIndex reveal.
The analysis looks at which brands people would be proud or embarrassed to work for. The internet search giant tops the list with a score of 46.4, followed by national carrier Qantas in second place (45.6).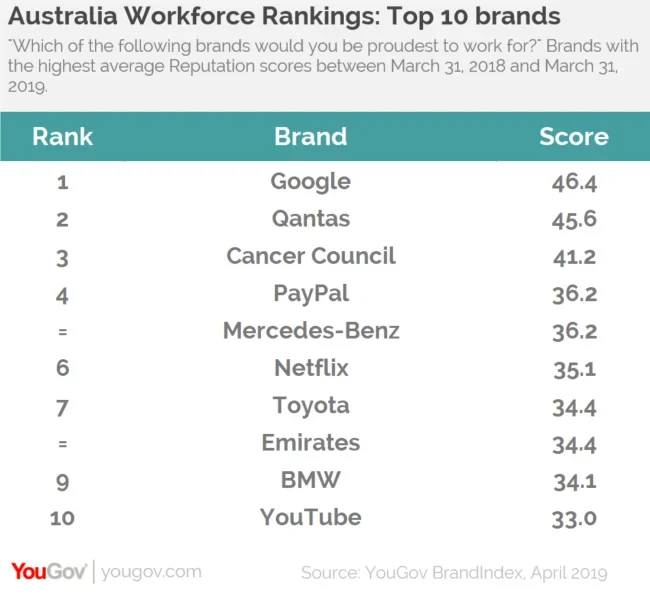 Other digital brands have a strong presence in the top ten. Digital payment solution PayPal is tied in fourth place (36.2), subscription video-on-demand service Netflix comes in sixth (35.6), and video-sharing platform YouTube in tenth (33.0). Car brands also fare well – with Mercedes-Benz in joint fourth (36.2), Toyota in joint seventh (34.4) and BMW in ninth (34.1).
The list is completed with brands from a range of industries. Sunscreen brand Cancer Council comes in third (41.2) and airline Emirates in joint seventh (34.4).
The rankings also reveal the brands that have seen the biggest increase in their scores over the past 12 months. Netflix heads the list with a score increase of +5.0, followed by fast-food giant McDonald's (up +3.7 points), and a variety of brands in joint third place, ranging from fast food brands Hungry Jack's and KFC, to Singapore Airlines and instant messaging platform WhatsApp (all up +3.3 points).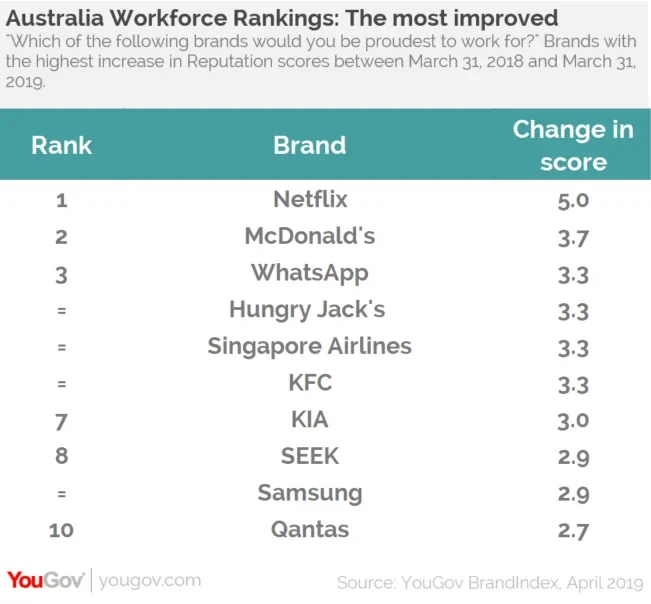 Ervin Ha, Head of Data Products at YouGov APAC said: "The prevalence of tech brands in the top ten suggests that many Aussies want to work for innovative and forward-thinking employers – particularly Google who takes the top spot. Being a brand people would be proud to work for is a good indication of strong brand health."