YouGov release global rankings of best Dining & QSR brands
Local dining brands dominate the top ten
Hungry Jack's second most value-for-money
Bakers Delight the brand Aussies would be proudest to work for
Subway tops YouGov's 2021 Dining & QSR Rankings for Australia with an Index score of +27.6, making it the restaurant brand with the best overall brand health according to Australians.
The rankings are compiled using YouGov BrandIndex Index score, a measure of overall brand health calculated by taking the average of Impression, Quality, Value, Satisfaction, Recommend and Reputation scores. The rankings are measured from 1 March 2020 to 28 February 2021.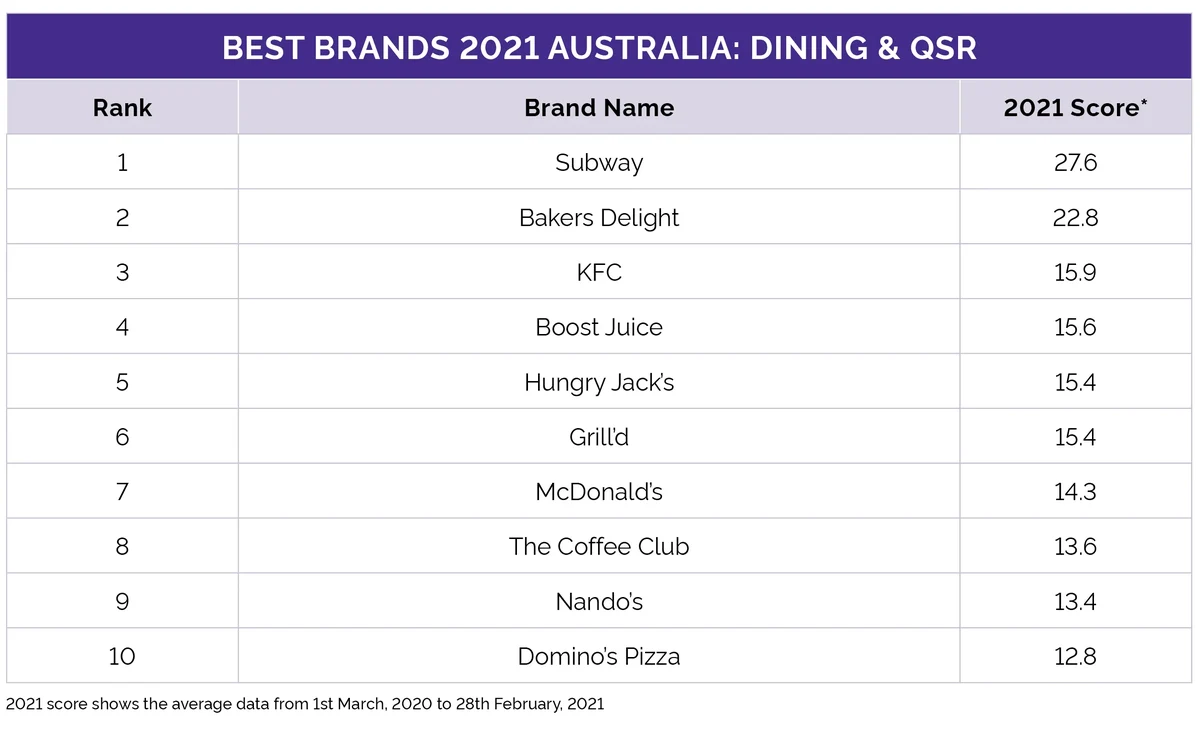 Subway comes up on top in five of the six metrics that make up its Index score – particularly for Value (measuring which brand consumers see to be most value-for-money). It holds a Value score of +29.3, making it 7.7 points ahead of Hungry Jack's (+21.6) who comes in second in this metric. The one metric where it falls behind is on Reputation (measuring which brand consumers would be proudest to work for). Baker's Delight tops for Reputation (+18.2), followed by The Coffee Club (+13.8) and Boost Juice (+12.7) – with Subway taking fourth in this metric (+12.2).
Local favourite Bakers Delight comes in second overall (+22.8), with a healthy score to marking their 40th anniversary last year. Other Aussie brands also fare well, with Boost Juice in fourth (+15.6), Hungry Jack's and Grill'd in joint fifth (+15.4) and The Coffee Club in eighth (+13.6). Healthy burger chain Grill'd does particularly well when it comes to their Recommend metric (measuring which brand consumers are most likely to recommend), coming in as the third (+18.2) most recommended brand on the list.
American fast-food chains also fare well in the top ten. KFC is in third (+15.9), McDonald's in seventh (+14.3). McDonald's scores particularly well in the Satisfaction metric, coming in third (+23.4), behind Subway (+30.4) and KFC (+25.1). Domino's Pizza is in tenth (+12.8) and South African chain Nando's is in ninth (+13.4).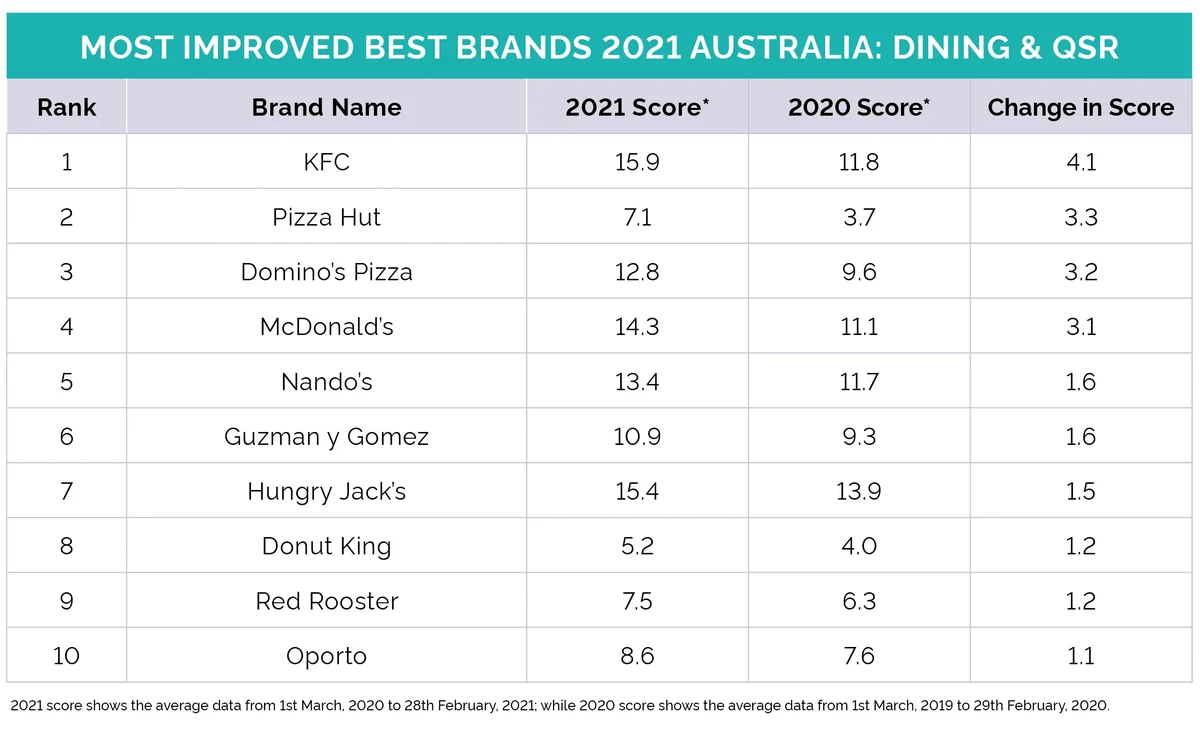 YouGov also looks at which QSR brand has shown the greatest improvement in scores. KFC shows the greatest improvement in scores (an increase of 4.1 points). Pizza Hut is the second most improved (up 3.3), followed by Domino's Pizza (up 3.2).