Welcome to YouGov's Inaugural Brand Health Rankings
Google tops YouGov BrandIndex's first-ever global brand health rankings. In a list dominated by online brands, the search giant comes in just above sister company YouTube as well as number three, Facebook.
Other tech firms feature prominently on the list. Device manufacturer Samsung coming in fourth, messaging service WhatsApp in fifth and Apple's iPhone in sixth spot, while online retail behemoth Amazon is seventh. The top ten is completed by brands with longer histories – Toyota, Adidas and Colgate.
YouGov BrandIndex: Global 2017 Top Index Rankings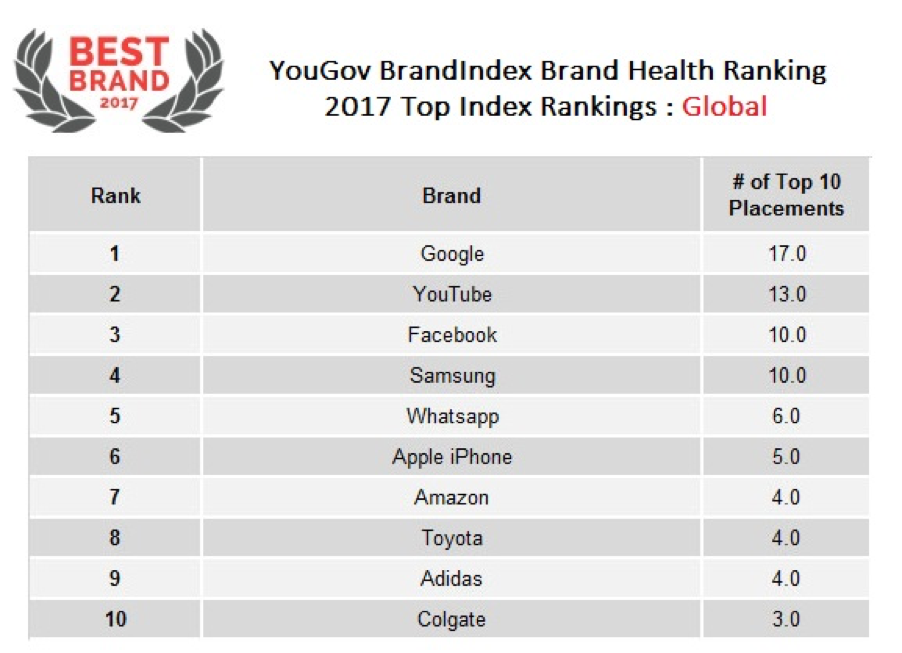 The rankings are based on YouGov BrandIndex data from across the world. BrandIndex operates in 32 markets across the globe, covering markets in North America, South America, Europe, Africa, Asia and Australia. YouGov used the Index score for the list which assesses overall brand health. It takes into account perceptions of a brand's quality, value, impression, satisfaction, reputation and whether consumers would recommend the brand to others.
Ted Marzilli, CEO of YouGov Data Products, says, "Tech brands dominate this global list and with good reason. By their very nature the likes of Google, YouTube and Facebook are open and accessible in most places on earth to anyone with online access. The presence of Samsung and Apple iPhone demonstrates a sign that our mobile devices have become the remote controls for our lives. All of the brands in the ranking are mainstream with broad utility at their core – and this is as true of the likes of Toyota and Colgate as it is for WhatsApp and Samsung."
In parallel to the top ten global list, YouGov has also released Australia brand health rankings. The list is dominated by established retail organizations – Bunnings, Coles, Kmart, JB Hi-Fi and Woolworths. Google and PayPal take the top 2 spots with another Google company, YouTube, a strong fourth.
YouGov BrandIndex: Australia 2017 Top Index Rankings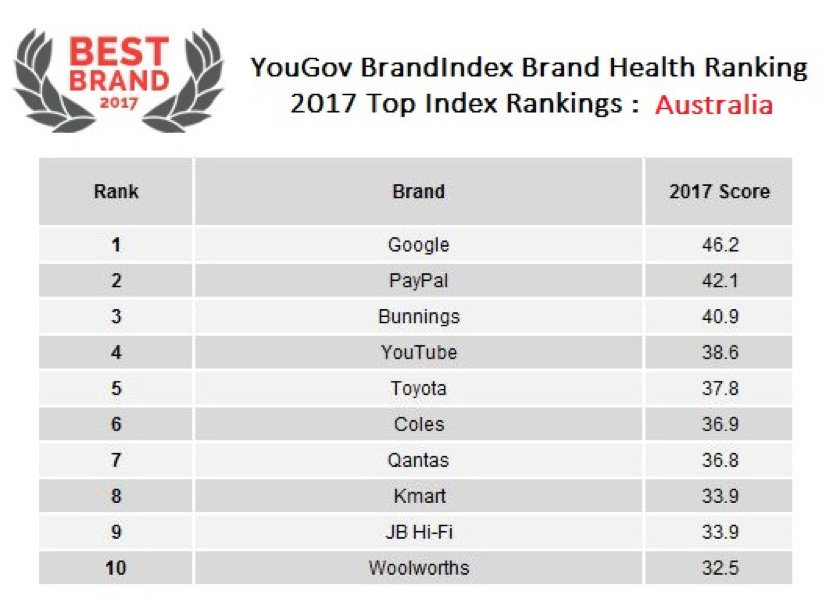 Sej Patel, Head of Australia and New Zealand, says, "While the Australian rankings are topped by very large global brands, it is also significant that the 'home-grown' brands such as Coles, Bunnings, JB Hi-Fi and Woolworths are very well represented. However, the majority of movers are multinationals and with more global brands indicating an interest on the Australian market with the likes of Amazon, 'local' brands will need to work hard to maintain their status amongst Australian consumers."
YouGov BrandIndex: Australia 2017 Top Index Improvers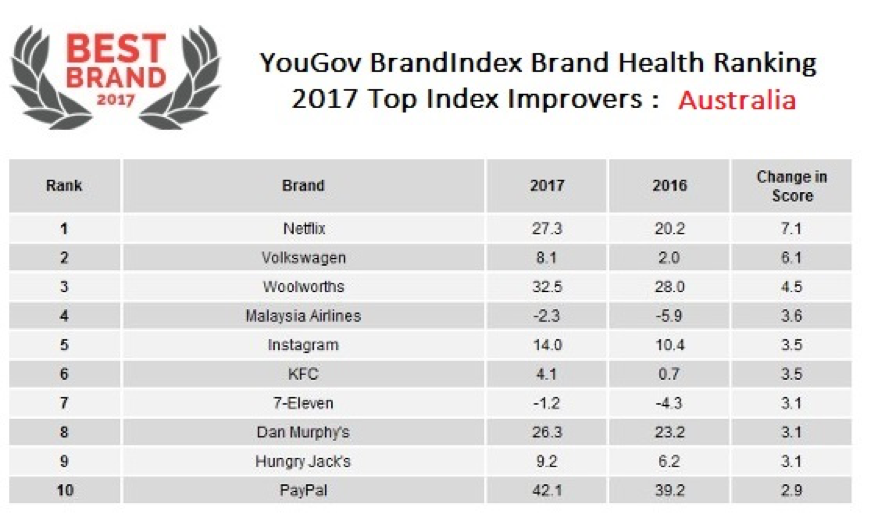 YouGov has also released a list of the brands with the most improved brand health over the past year. Volkswagen, Malaysian Airlines and 7-Eleven all seeing improvements in their brand health after some turbulent times. Ervin Ha, Head of Data Products, Asia Pacific, says, "Congratulations to Netflix who is Australia's top improving brand. The strong showing of Netflix points to the trend of streaming services (including YouTube in the Top Brands list) are becoming part of the mainstream as a platform for consuming entertainment."
Methodology: 
These brands were rated using YouGov BrandIndex's Index score which is a measure of overall brand health which takes into account consumers' perceptions of a brand's quality, value, impression, satisfaction, reputation and whether they would recommend the brand to others.
The Index Rankings list shows the brands with the highest average Index scores between July 1, 2016 and June 30, 2017. The Index Improvers list ranks the brands with the highest increase in Index comparing scores from the previous year. Both scores are representative of the general population.
All Index scores listed have been rounded to a single decimal place, however, we have used additional precision to assign ranks where the scores are tied.
For sector rankings in Australia and rankings in other markets, please visit YouGov BrandIndex website.