Frequently Asked Questions (FAQ)
A. Introduction
B. Getting Started
C. Using YouGov Points
D. Redeeming YouGov Points
E. General Issues
A. Introduction
YouGov conducts polls on the Internet about politics, public affairs, products, brands and other topics of general interest. YouGov polls are taken by people, from all over the region, who have agreed to share their thoughts on a wide variety of important issues. It is free to join for anyone age 16 and above.
HOW LONG IS A TYPICAL YOUGOV SURVEY?
Most YouGov surveys are very short and should only take you about five to seven minutes to complete. A typical survey is only about 20 to 30 fairly short questions in total. Occasionally, there will be longer surveys or surveys with more complex questions. The longest surveys should not take more than 20 minutes to complete.
HOW AM I TOLD ABOUT NEW SURVEYS?
Every time we have a new survey for you to complete you will receive an email telling you , and you will be able to access the survey straight from the email.
FOR WHAT PURPOSES IS THE DATA COLLECTED BY YOUGOV USED?
Data from YouGov surveys are used by news media, public affairs groups, institutions, companies and marketing agencies, to reveal and analyze public opinion.
YouGov conducts surveys for a diverse group of clients to help them better understand public views about current affairs, and consumer products and brands.
YouGov is a non-partisan organization. Many of our surveys have nothing to do with politics. We do also conduct political polls – some for clients and some on our own behalf to gauge the opinions of the public in the region. Our own polls are not written from any political viewpoint, but are meant to be social scientific efforts to read public opinion. The surveys we conduct are not intended to influence your opinions, but to measure them. Rest assured that when you answer a poll at YouGov, your privacy is secure, and your responses do make a difference.
WILL THE INFORMATION I PROVIDE TO YOUGOV BE CONFIDENTIAL?
Yes. Your responses will be used only for statistical tabulations, such as "50% of the public is in favor of a tax cut" or "10% more women valued Brand X." Your individual answers will never be revealed to anyone in a manner that reveals your identity. Please see our Privacy Policy for complete details.
WILL I RECEIVE E-MAIL MESSAGES FROM ANYONE OTHER THAN YOUGOV?
No. Under no conditions will YouGov give, rent, or sell your e-mail address to anyone else or allow messages to be sent to you by third parties.
DO I HAVE TO BUY OR SUBSCRIBE TO ANYTHING?
No. YouGov conducts only legitimate public opinion polls. You will not be asked to buy or subscribe to anything.
You must be logged in to see your points. If you are logged in they will be visible at the top left corner of the home page.
If you have forgotten your password or need to reset it for any reason, click on Forgot your Password from the Login page.
WHERE CAN I CHANGE MY EMAIL OR POSTAL ADDRESS?
You can change your address from your account page. To navigate to your account page select My YouGov then Account from the top menu.
Whilst we hope you will enjoy being a member of the site, should you for any reason wish to leave then please visit the unsubscribe page. Please note that you will forfeit any points you have in your account if you unsubscribe.
B. Getting Started
IS IT FREE TO JOIN AS A YOUGOV MEMBER?
Joining YouGov panel is free! There is no charge to be a member or redeem points.
WHERE CAN I FIND MY BIG SHOT ID?
It's simple. You can either: 1. Log into your AirAsia member profile at AirAsia website to check your Member Number or 2. Log into your BIG Shot portal at AirAsia website or 3. Refer to the welcome email that AirAsia has sent earlier or 4. Contact AirAsia via AskBIG.
HOW LONG DOES IT TAKE FOR ME TO GET THE 250 AIRASIA BIG POINTS AFTER I SIGN UP AS A YOUGOV MEMBER?
The 250 BIG Points will be transferred into your BIG account within 10 working days upon successful sign up and completion of the welcome survey.
C. Using YouGov Points
WHAT KIND OF REWARDS ARE OFFERED FOR PARTICIPATING IN SURVEYS?
When you take surveys, you accumulate points which can later be redeemed for cash or other great rewards.
Some of the ways we reward our members in different markets:
• AirAsia Big Points
• Cash by deposit to your PayPal account or Prepaid cards
• Gift cards to various merchants
• Mobile credits
• Charity donation
Reward Disclaimer
Points have no value except when claimed by the account holder for redeeming a reward. Values of rewards, points required for a reward, and rewards offered may vary from time to time without notice. YouGov reserve the right to make changes and corrections at any time, without prior notice.
HOW MANY POINTS WILL I RECEIVE FOR COMPLETING A SURVEY?
The amount of points that can be earned for completing a survey is determined by the length of the survey. Typically, you should earn up to 400 points for completing a 10-15 minute survey.
WHAT IS THE MINIMUM THRESHOLD FOR REDEMPTION?
The minimum threshold for redemption is 5000 YouGov point.
No. Your YouGov points will not expire.
D. Redeeming YouGov Points
HOW LONG DOES IT TAKE FOR MY BIG POINTS TO APPEAR IN MY AIRASIA ACCOUNT?
Your BIG Points for the Welcome Survey should appear in your AirAsia account within 10 working days of the request being received.
Your BIG Points for the Rewards Redemption should appear in your AirAsia account within 10 working days of the request being received.
DO I HAVE TO PAY FOR THE SHIPPING AND HANDLING OF MY REWARD WHEN I REDEEM MY POINTS?
Not unless specifically noted on the website. In most cases, you will simply redeem your Points on the reward of your choice and leave the delivery to us!
HOW WILL THE REWARDS/ CASH BE DELIVERED AFTER I PLACE A REDEMPTION REQUEST? WHAT KIND OF INFORMATION DO I NEED TO PROVIDE?
• Cash will be transferred into your PayPal account within 10 business days of the request being received.
• Rewards such as gift cards will be delivered to your postal address within 1 month of the request being received.
• AirAsia Big Points will be transferred into your BIG account within 10 business days of the request being received.
• Mobile credit (for both China and Southeast Asia )will be transferred into your account within 22 business days of the request being received.
In order to ensure proper delivery, please input your postal address and the following information: (1) Name of the Bank (2) Bank account number (3) Full name (4) mobile number under 'My Info' of the account page. For the bank account information and mobile number, please input in the box of 'Street'.
HOW CAN I REDEEM MY YOUGOV POINTS FOR CASH?
Once you have accumulated 5000 points, you can click on the redeem button to redeem SG$25. Please note that the red redeem button will not be popped up if you do not have enough points for redemption.
If you have not accumulated enough points, you will see:

If you have accumulated enough points, you will see:

HOW LONG DOES IT TAKE UNTIL I GET MY YOUGOV FLEXI E-GIFT VOUCHER ?
YouGov Flexi E-Gift Voucher will be delivered to your email address within 2 weeks after redemption request received.
WHAT IS YOUGOV FLEXI E-GIFT VOUCHER?
YouGov Flexi eGift Card is an electronic gift card that lets you choose where you'd like to shop in Australia!
In the past if you were given a gift card for a particular shop but didn't want to buy anything from that shop, you were stuck.
But now with a YouGov Flexi eGift Card, you get to choose at which shop you spend your gift.
What's more, you may be able to split your YouGov Flexi eGift Card and spend it at different shops!
For example, if you have a $50 YouGov Flexi eGift Card, you could choose to split it up into a $30 Myer eGift Card and a $20 iTunes eGift Card.
• Instant delivery via email. Works on desktop/laptop or smartphone/tablet.
• Open the eGift Card then select where you'd like to spend it.
• Available for 2 type of denominations : $20 AUD and $50 AUD.
• Longtime validity period (almost 3 years).
HOW CAN I GET YOUGOV FLEXI E-GIFT VOUCHER?
There are 2 options available for redeeming YouGov Flexi eGift Card:
• 5000 YouGov points which is equal with $20 AUD.
• 10000 YouGov points which is equal with $50 AUD.
Both of the redemption can be made in your account page when your points is sufficient for the redemption.
WHERE CAN I SPEND YOUGOV FLEXI E-GIFT VOUCHER?
You can spend your eGift Card by purchasing goods in the merchants / donations as detailed on below:
AUD 20: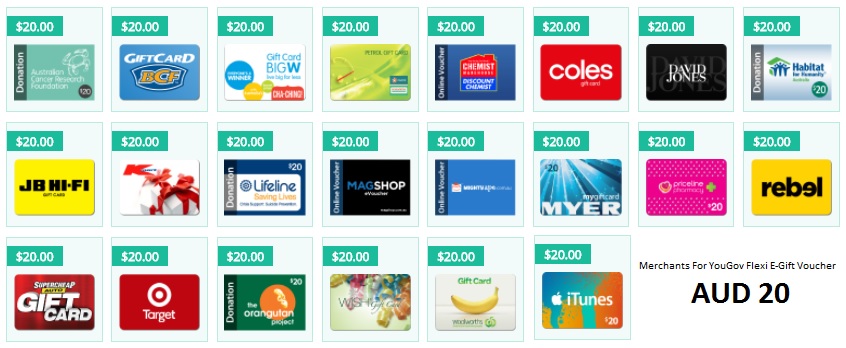 AUD 50: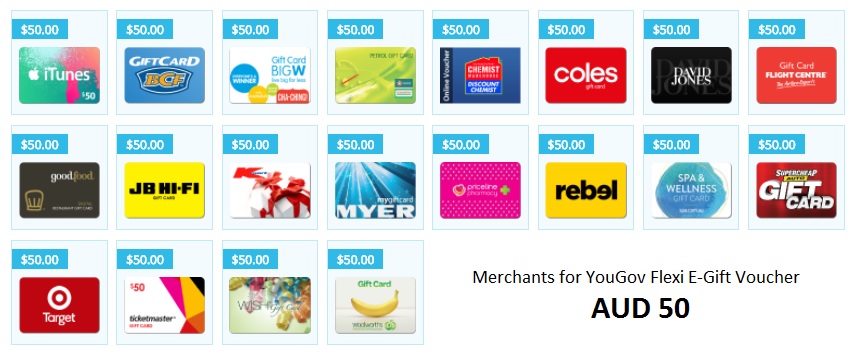 HOW LONG IS THE VALIDITY OF YOUGOV FLEXI E-GIFT VOUCHER?
Initially, your Flexi eGift Card will have a very long validity period, typically 3 years (although in some cases your particular eGift Card might have validity as short as 6 months). Check the expiry date shown on the main Flexi eGift Card page.
When you choose an eGift Card or Voucher, it will have a shorter expiry date, typically within 3 - 6 months, and sometimes as short as 1 month. What this means is that the expiry date of your Flexi eGift Card can change depending on the selections you make.
As an example, after selecting this iTunes eGift Card shown below, you would have 6 months to activate it before it expired, not the original 3 years of the Flexi eGift Card. For this reason it is very important to pay attention to the expiry and validity periods shown.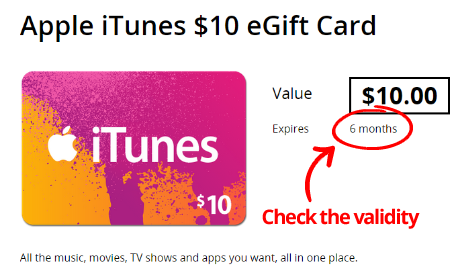 WHERE TO CONTACT FOR ANY INQUIRIES?
You can contact us on APAC Support for any inquiries regarding on how to redeem your points to YouGov Flexi eGift Card or any status of your YouGov Flexi eGift Card.
For any further details and step on how to use YouGov eGift Card, please visit Gift Pay
E. General Issues
If you can't login to your account successfully, you may have encountered a technical problem with our website.Please re-try the URL while paying close attention to filling in the right details. If you continue to experience problems, please send an email with the URL and pin code you are trying to login with, along with the following information and we will provide assistance:
• Device brand and model
• Your operating system
• Browser version
• The error message you are receiving (preferably with screenshot)
If you received a faulty survey link, you may have encountered the following:
a) the deadline for answering this survey has ended. Our survey is usually valid only for 2 to 3 days.
b) We are facing some technical problems which cause the link to be faulty. We apologize for this problem. Please refresh the browser or check back later to resume your survey.
THE SETUP PAGE IS IN THE WRONG LANGUAGE
In the top right corner of the setup page is a flag icon. This can be used to change the language. If the desired language is not available, please contact us and we can add on additional languages.
WHAT ARE YOUGOV QUALITY STANDARDS?
Our clients value us for our unparalleled quality and we thank our panellists for making this possible. Our systems help us detect and maintain response quality, which include but are not limited to attentive responses, not speeding through surveys, providing conflicting information within the same survey etc.